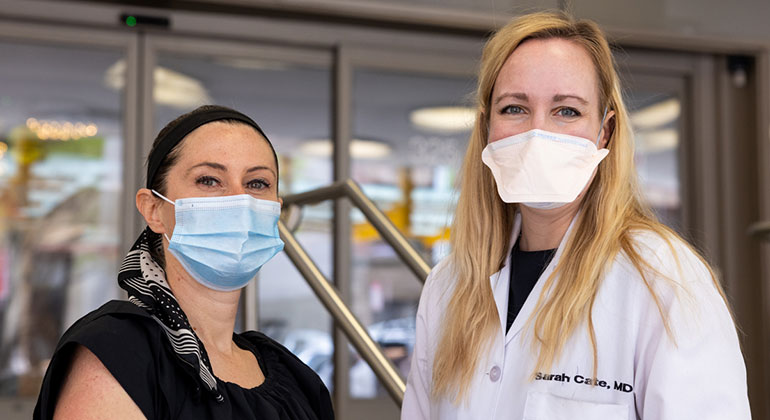 Mother of Two Young Children Faces Breast Cancer During the Pandemic
Delphine Ettinger, age 44, was breastfeeding her second child, then 7 months old, when she felt an immovable lump in her breast. It was February 2020, just before the COVID-19 pandemic hit New York City. Delphine's first thought was that she had a blocked duct. But she decided to get it checked out, just in case.
She dismissed the idea of cancer because she'd spent two and a half years nursing her first child and was currently nursing her second. "I'd basically been breastfeeding for three years straight—and I thought if I was breastfeeding for so long, I thought I could not get breast cancer," Delphine explains. For that reason, Delphine hadn't had a mammogram in a while. She was a little surprised when her internist sent her for a mammogram, sonogram, and biopsy.
Delphine clearly remembers the day, March 13, when her internist called with the news: Delphine had a malignancy. "I felt like it was the end of the world," she says. "Because of COVID, we were already scared to go in the streets, and now I was thinking I would have to deal with cancer with two small babies. I worried I would not see my baby grow up." Delphine quickly made an appointment with breast surgeon Sarah P. Cate, MD, Assistant Professor of Surgery, Icahn School of Medicine at Mount Sinai, and lead physician for the Special Surveillance Breast Program at Mount Sinai Beth Israel.
Breastfeeding does, in fact, protect against breast cancer. But it isn't 100 percent effective. "It's called pregnancy-associated breast cancer and affects about 1 in 3,000 women—very rare," Dr. Cate says. Pregnancy-associated breast cancer can affect women during pregnancy or within the first year after delivery.
For those few women who do develop breast cancer while pregnant, the hormones in their bodies tends to speed up tumor growth. Delphine did the right thing by immediately getting checked. "Women should also know that it is safe to get a mammogram—or a sonogram—while they are pregnant," Dr. Cate says. "We use abdominal shielding, like when you go to the dentist." Because Delphine sought care immediately, they were able to find the cancer at an early stage. "That really helped her outcome," Dr. Cate adds.
Genomic testing indicated that Delphine's cancer had a high likelihood of recurrence. For this reason, Delphine would require chemotherapy and radiation treatment, in addition to surgery. But first she had to be tested for COVID-19. "That was very scary," Delphine remembers. "It was the height of COVID, when everyone was getting very sick, and there was so little information. I was scared of getting COVID and didn't know how it would affect my cancer."
Delphine's cancer was fast growing, so Dr. Cate encouraged her to start treatment immediately. She also asked Delphine to stop breastfeeding, which added to Delphine's worries. "My son was very small, and he didn't like formula. He was losing weight." But the increased hormones involved in nursing would only spur Delphine's cancer to reproduce more quickly.
Delphine had a lumpectomy in March 2020. It went without a hitch and was one of the last breast surgeries to be done at Mount Sinai before the statewide shutdown due to COVID-19, according to Dr. Cate. "I'm so glad I didn't have to delay the procedure due to COVID," Delphine says. Dr. Cate was able to remove the tumor entirely.
After the procedure, Delphine took a month to rest and spend time with her two sons before returning to cancer treatment. "Children don't understand that you need to rest. They don't understand why you are lying down. They want to play," she says, adding that the upside was that her children didn't know enough to worry.
In May, Delphine began eight twice-monthly sessions of chemotherapy. Because the pandemic was raging, she needed a COVID-19 test before each chemo session. "I knew if I got COVID it would delay my treatment," she says. She also received "cold cap" therapy to preserve her long black hair. "The process was painful, but it was worth it. I kept about half my hair." Because of the pandemic, Delphine had to go it alone; she couldn't bring a friend or family member with her to the chemotherapy sessions.
Radiation treatment followed, in August and September 2020. "I had 30 treatments, and it was very scary," remembers Delphine. She put her sons down for a nap, then quietly go to treatment, leaving them in the care of Daniel, her boyfriend and father of the children.
Fortunately, Delphine had plenty of support, in addition to Daniel. All the mothers from her child's daycare group brought her food and donations and arranged Zoom meetings. "They were with me every step of the way," says Delphine. "They were my family and support system." When she finished treatment, Delphine returned part-time to her job as a music label manager.
In March 2021, Delphine went for her one-year check-up—and they found another lump. "The stress, it's like PTSD, it brings back everything," Delphine remembers. Fortunately, the lump was benign. Delphine was cancer-free.
Delphine continues to have regular check-ups. She takes hormone injections to stop her period (lowering her hormone level), which puts her into artificial menopause, and she was prescribed anastrozole, also known as Arimidex, which reduces the risk of recurrence.
"My energy is back, and my hair is growing back," Delphine says. "I am vaccinated for COVID-19, so we have been going to the cinema and the park. I finally feel like I am living life again."