Broadway Singer Regains Voice at the Eugen Grabscheid Voice Center
I was crushed in 2011 when that troll "Hurricane Irene" shut my one-woman show down! But like most things in my life, it turns out that she was a blessing in disguise because my relationship with Eugene Grabscheid was renewed via Daniel McCabe, vocologist at Mount Sinai's Eugen Grabsheid MD Voice Center, due to this unfortunate event. After surviving cancer, chemotherapy, and the ravages of radiation, (not to mention more than 30 years as a 'committed' smoker), I was grateful to find that I had "any" voice.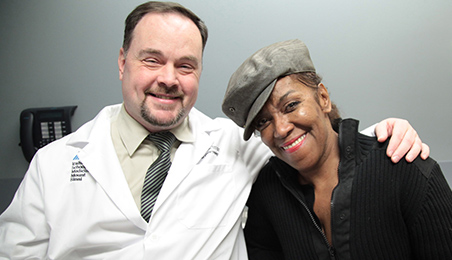 Let's rewind… In 1983 when I arrived on Broadway, Dr. Eugen Grabscheid's practice was over capacity, as he was the go-to doctor for most Broadway and opera performers. Fortunately, my director, lifelong friend, and manager, Philip Rose, asked him to see me as a personal favor, as I was neurotic and filled with angsts about my voice. I would always convince myself that I had laryngitis…every week. Eight shows a week is no joke, especially when people are paying top dollar to see you LIVE. That's pressure.
On visit one, Dr. Grabscheid told me, "Open your mouth," in his thick German accent. He then pronounced, "There is nothing wrong here. You're chords are fine." He'd have me suck on the atomizer for an hour...then off I went to do my show. This was our weekly ritual. I tell myself that he looked forward to my visits…that's my story and I'm sticking with it! And when I did come when my voice was under distress, he fixed that too.
I moved to California, where I heard Dr. Grabscheid had passed, and I felt sad. There would never be another quite like him. But when I returned to NY in 2011 to rehearse for my show, I started feeling something wasn't right. So I mentioned to the glorious opera diva Carolyn Sebron that, even though I knew nothing was wrong, I wish Dr. Grabscheid was here just to look at my voice, and what she said next made me shout. "Why don't you try and get an appointment at The Eugen Grabscheid MD Voice Center at Mount Sinai?"
What? What!? Yes, there is a Center dedicated to this incredible man, who saved and preserved untold number of voices.
Professional Voice Treatment at the Eugen Grabscheid MD Voice Center
I was a contralto/alto and prided myself on being a, 'Broadway Legit Belter,' who specialized in 'belting out the bottom' register, singing way down in the bass range. I 'attacked' songs, more than 'approached' them. However, the day came when I could no longer rely solely on power, as I had undergone six surgeries between 2011 and 2013 - three of which were abdominal. It was with great sadness that I resigned myself to the reality that I'd never really sing again. More than anything I wished I could…it just didn't seem conceivable.
Enter stage left, Dr. Kenneth Altman and the hero of this story…Daniel McCabe. Dan heard something in my voice. I didn't. But his commitment to my voice made me reassess everything. I confessed to them that I've been smoking the whole time. They both found this incredible. But instead of being really upset and preachy, Dan merely said, "Really? Wow! You have incredible range, and you've been smoking!? Wouldn't you like to see just how good it could be?" Things changed for me that day. I did not smoke another cigarette! And at my weakest moments, I found myself thinking about that simple question.
The process of overhauling my voice has been painful and demoralizing at times, but the gift of this second chance to own my voice leaves me with unspeakable joy. When I tell you I have tears streaming down my face as I try to write about this man Dan McCabe who - stern and exacting as he is - saw something…heard something…against all my resistance and doubt that now has me singing in the C6 range with abandon and joy I never thought imaginable. I can't count how many times I've walked out of the Eugen Grabscheid MD Voice Center and thought, 'Dr. Grabscheid, they have done you proud. Thanks for remaining the guardian angel for professional singers…especially those of us who've committed their lives to performing on stage.'
Thank you Dr. Eugen Grabscheid for inspiring all who work under your moniker. Thank you Daniel McCabe for being a master at what you do, and the Eugen Grabscheid MD Voice Center for giving me my voice back.
Helena-Joyce Wright
Veteran Broadway Singer/Actress/Writer