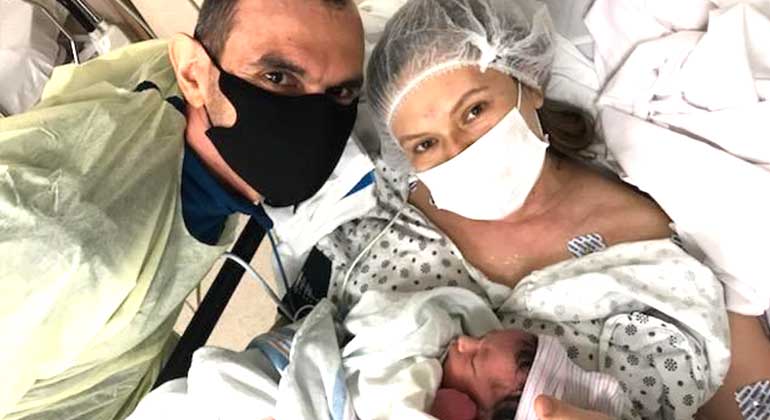 Giving Birth and Undergoing Heart Surgery During COVID-19, Mom Grateful to be Reunited with New Daughter and Husband
Yulia Nurikyan, 38 weeks pregnant, had not been feeling well. A first-time mom, she chalked her backache up to late-stage pregnancy. In mid-May, in the heat of the COVID-19 pandemic, she woke up at 5 am with a heavy feeling in her throat. She got up out of bed for a glass of water, then fainted. Her husband quickly called 911, and an ambulance rushed Yulia to Elmhurst Hospital.
Yulia told the medical team at Elmhurst that her father had died of an aortic dissection in his 40s, so they ordered a CT scan and other diagnostic tests, which showed that Yulia had a bicuspid aortic valve. About half of patients with this heart defect develop an aortic aneurysm, an enlargement of the vessel that can lead to aortic dissection. This is a tear in the inner layer of the aorta, the main blood vessel that brings oxygenated blood to the rest of the body. The condition usually gives no advance warning and can cause sudden death.
Yulia underwent an emergency C-section, delivering a baby girl, Livia. She held her daughter for a few minutes, then she was rushed to The Mount Sinai Hospital for emergency heart surgery, since imaging tests suggested that her aorta was about to rupture, which could have proved fatal.
"In cardiac surgery, this situation is at the top of the list of emergencies" says Ismail El-Hamamsy, MD, the new director of aortic surgery at the Mount Sinai Health System, who treated Yulia as soon as she arrived.
Dr. El-Hamamsy is an expert in the repair of aortic dissection and recently published a study on its prevalence during the COVID-19 crisis. Working with cardiovascular surgeon Percy Boateng, MD, and Chairman of the Department of Cardiovascular Surgery, David H. Adams, MD, Dr. El-Hamamsy performed a lifesaving procedure that replaced the injured blood vessel with a synthetic graft, all while preserving and repairing her bicuspid aortic valve.
Livia had remained at Elmhurst, rather than being transferred to The Mount Sinai Hospital with Yulia. And, because of fluid in her lungs, she had been placed in the neonatal intensive care unit. Yulia and daughter spent a week at separate hospitals, and her husband, Antoan, could not visit either of them due to safety rules during the pandemic.
Finally, the family was happily united. Antoan picked up Yulia on May 23, and they went together to get Livia. "My baby was the one who got me through it," Yulia said in an article featured in The New York Daily News. Yulia is thrilled to have a new daughter and a healthier heart, and mom and dad are grateful for the compassionate and expert care their new family received.