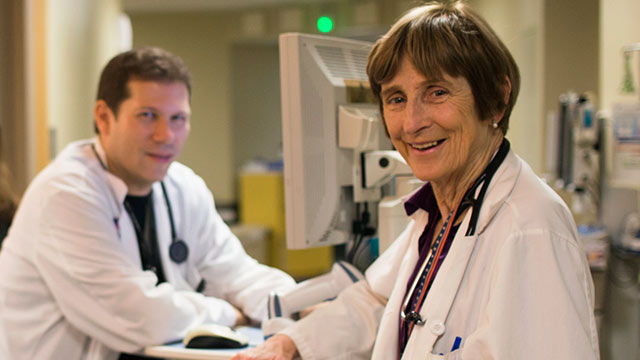 The Mount Sinai Health Network
The Mount Sinai Health Network is comprised of hundreds of clinical and academic relationships throughout the greater New York metropolitan area and Florida.
These relationships—combined with our large network of Mount Sinai Doctors which encompasses primary, specialty, and urgent care physicians—allow Mount Sinai to extend its health care delivery system, offering high quality, accessible care in the neighborhoods in which our patients live and work. The Health Network strives to provide all patients with convenient, local access to a variety of health care services that are supported by the highly evolved service lines, hospital facilities, medical school, and research enterprise which represent the core of the Mount Sinai Health System.
Mount Sinai Doctors
In addition to its large primary care and highly specialized ambulatory network, Mount Sinai offers multispecialty services in several communities that aim to deliver the highest quality of care to patients of all ages. These practices are staffed by Mount Sinai board-certified physicians, who work collaboratively to provide exceptional medical care. In many cases, patients can be seen by multiple physicians and have tests completed in a convenient location where care is seamlessly coordinated with one of our eight Health System hospitals, should additional intervention be necessary.
Access to urgent care services is available at several Health Network sites, offering patients access to immediate medical attention for unexpected, non-life threatening occurrences, without an appointment.
Clinical, Academic, and International Affiliates
The Health Network's clinical affiliations and alliances relate to a diverse group of academically oriented health care enterprises, group practices, public and government health care providers, as well as other high-quality health care systems. These symbiotic relationships provide the Health Network with an expanded reach—enabling Mount Sinai to serve a large and diverse patient population in an efficient, effective, and quality-oriented manner, which promotes enhanced access to and continuity of care for all.
Member Hospitals
Hospital Affiliates
Nursing Homes and Long Term Care Facilities
Mount Sinai Health Network Owned Physician Practices
Manhattan, NY
Mount Sinai Doctors-5030 Broadway
Mount Sinai Heart Ambulatory Cardiovascular Center at 181st Street
Brooklyn, NY
Mount Sinai Doctors-Sheepshead Bay
Mount Sinai Doctors-Midwood
Florida
Long Island, NY
New Jersey
Palm Beach County, FL
Queens, NY
Mount Sinai Doctors-31st Avenue
Javed Suleman, MD – Cardiology (Richmond Hill)
Mount Sinai Doctors-Surgical Practice (Astoria, Flushing)
Staten Island, NY
Westchester County, NY
Mount Sinai Health Network Affiliated Physician Practices
Manhattan, NY
ENT and Allergy Associates
Integrated Medical Professionals
Lexington Medical
Manhattan Internal Medical Associates
Federally Qualified Health Center Practices
Brooklyn, NY
Bronx, NY
Queens, NY
Staten Island, NY
Long Island, NY
ENT and Allergy Associates (East Patchogue, Garden City, Hauppauge, Lake Success, Port Jefferson, Riverhead, Southampton)
Integrated Medical Professionals (Amityville, Bethpage, Centereach, East Patchogue, Elmont, Garden City, Glen Cove, Hauppauge, Lake Success, Lawrence, Long Beach, Manhasset, Melville, North Hills, Northport, Patchogue, Plainview, Port Jefferson Station, Rockville Centre, Seaford, Smithtown, Stonybrook, West Islip)
New York Cancer and Blood Specialists (Babylon, Bay Shore, Greenlawn, Patchogue, Port Jefferson Station, Riverhead, Smithtown, Southampton, Stony Brook)
Dutchess County, NY
Orange County, NY
Rockland County, NY
Ulster County, NY
Westchester County, NY
ENT and Allergy Associates (New Rochelle, Purchase, Sleepy Hollow, White Plains, Yonkers, Yorktown)
Integrated Medical Professionals (Bronxville, Freeport, Hartsdale, New Rochelle, Scarsdale, White Plains, Yonkers)
New Jersey