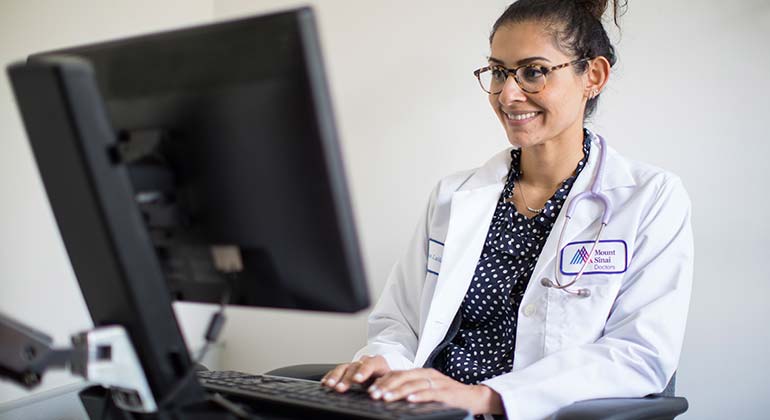 Mount Sinai Health System patients have the right to access their health information according to federal and state laws. HIPAA regulations are extensive and designed to protect patient privacy. You can request a copy of your health records from any hospitalization, surgery, clinic and emergency room visits from our Health Information Management/Medical Records departments. You may request your physician's records directly from the provider's office.
Before you submit your request, it is important for you to provide the following information:
Your patient information – print full name, date of birth, address, phone number
What information you're requesting– the entire record or portions of your record
Where and when you received care
All hospital sites and locations where you were treated
Dates you were seen - it can be one day or a range of dates and years. If you are not sure, we will check our files.
How would you like to receive the records – paper copies or CD that can be mailed or picked-up, or electronic documents to be emailed.
Where would you like to send the information – for other parties, write-in the complete name of the person, physician, facility, or company, along with their full address and secure email, if that is the mode of delivery.
You can deliver or mail the completed form to the Medical Records Department at the Mount Sinai site you were treated, which are listed on the back of the request form as well as below.
Special Circumstances:
If the patient is incapacitated, or unable to sign for him/herself, the patient representative must enter relationship to the patient so that we can determine authority to request the records.
If the patient is deceased, the established next of kin, court-appointed administrator or executer of the state can request the medical records. A copy of the death certificate will be required to verify death if the patient did not expired in our facilities.
Hospital Site

Address

Contact Number

The Mount Sinai Hospital

The Mount Sinai Hospital HIM/Medical Records
One Gustave L. Levy Place, Box 1111
New York, NY 10029

212-241-7607

Mount Sinai Queens

Mount Sinai Queens HIM/Medical Records
23-34 30th Ave, First Floor
Astoria, NY 11102

718-808-7683

Mount Sinai Beth Israel

Mount Sinai Beth Israel Health Information Management
First Avenue at 16th Street
New York, NY 10003

212-420-2665

Mount Sinai Brooklyn

Mount Sinai Brooklyn Health Information Management
3201 Kings Highway
Brooklyn, NY 11234

718-951-2806

Mount Sinai Doctors

Make requests directly to the practice – Call practice to obtain address information OR Mount Sinai Doctors Faculty Practice – Medical Records
1 Gustave L. Levy Place, Box 1111
New York, NY 10029

Contact the individual practice

Mount Sinai-Union Square

Mount Sinai Beth Israel Health Information Management
First Avenue at 16th Street
New York, NY 10003
Attn: Outpatient Team

212-844-5275

Mount Sinai Morningside

Mount Sinai Morningside Health Information Management
1090 Amsterdam Avenue
13th floor, Suite B
New York, NY 10025

212-523-3265

Mount Sinai West

Mount Sinai West Health Information Management
1000 Tenth Avenue
New York, NY 10019
Lower Level

212-523-6623

The Blavatnik Family Chelsea Medical Center

The Blavatnik Family Chelsea Medical Center
Health Information Management
325 West 15th Street
New York, New York 10011

212-604-6045

New York Eye and Ear Infirmary of Mount Sinai

New York Eye and Ear Infirmary Medical Records
310 East 14th Street
New York, NY 10003

212-979-4352
Frequently Asked Questions (FAQs)
Q: How should I fill out the request forms?
A: You must fully complete the request form. You must also sign and date the request form, or we will not be able to process your request. If you request your records in person, you need to bring a valid government-issued photo ID.
Note: you need to check specific boxes for disclosure of HIV, Alcohol and Drug Abuse, Psychiatric or Genetic Tests to third parties.
Q: Where can I obtain other health records?
A: You can access physician office records from MyChart*, our electronic Patient Portal. You can also use the request forms to obtain cardiology images, radiology films, and pathology slides from the hospital departments that maintain those records.
* MyChart is the electronic portal where Mount Sinai patients can make appointments, communicate with their doctor, request refills, access test results, and review visit notes via a secure identification and password. If you do not have MyChart, sign-up on line at our website.
Q: How long does it take to process the request? And do I have to pay?
A: In accordance with HIPAA law, we will respond to request for copies within 30 days. But, once the request is received, we generally respond within 7-10 business days.
If your request is for urgent medical care, let us know and we will expedite it. You can complete your request in person, and we can give you the urgently needed information – diagnostic tests, consultations, operative reports, etc. But, do allow as much time as you can, since more time might be needed to search for older records stored outside the hospital.
Note: we keep all records for a minimum of 10 years after the last patient visit. The records of children will be kept until the child is age 21.
Please note that there are fees for patients and attorneys.
We may charge a fee as permitted by law. You may have to pay a reproduction fee for your records. Mount Sinai Health System may use a copy service that will charge depending on the type of request and how the record is delivered.
For patients: a fee of $6.50 may be charged for electronic record delivered in electronic format. A per page fee may be charged to deliver in paper the electronic record ($0.07 /page) or the paper records ($0.12 /page). You will have an opportunity to discuss those fees.
Note: Mount Sinai Health System does not charge a fee to provide records for urgent in person requests, or to submit records to physicians or health care providers. For other parties, such as attorneys, insurance companies, subpoenas, a fee of $0.75/page may be charged.