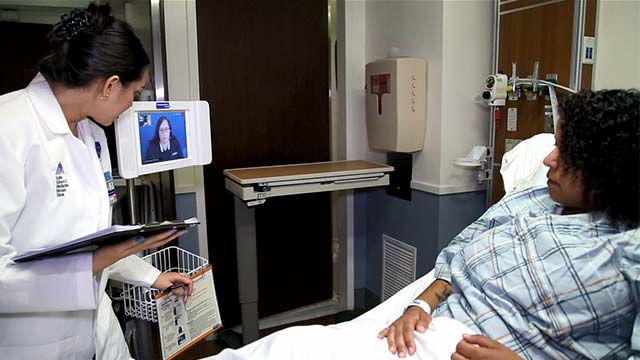 Language & Communication Access Services
The Mount Sinai Health System provides interpretation and translation services to patients and/or family members who prefer to communicate in a language other than English. Assistive devices are also available to persons with disabilities to help them communicate with providers and staff during their visit. All services are provided free of charge.
Qualified Medical Interpreters for spoken languages
Over-the-phone interpretation services in more than 200 languages available 24/7
Video remote interpretation services available in 35 languages
In-person interpretation services through staff or agency interpreters (requires advanced notification)
Qualified Sign Language interpreters for Deaf individuals
In-person ASL or other Sign Language (requires advanced notification)
ASL video remote interpretation available 24/7
Tactile interpreters for Deaf-blind individuals (requires advanced notification)
Assistive devices
Clear masks
Videophones
Captioned telephones
Multilingual communication boards
Sound amplifiers
Large-type forms
Preadmission and discharge instructions in audio format
CART Services (requires advanced notification)
Automated audio transcription apps (patients and family members are allowed to use their own device)
Written Translation Services
Multilingual forms
Patient education material
Patient's Rights signage

Patients' Bill of Rights
Parents' Bill of Rights
Breastfeeding Mothers' Bill of Rights
Patients' Rights in New York State
Contact Us
The Mount Sinai Health System has a Language Assistance Program at each of the main hospital campuses:
Mount Sinai Beth Israel: 212-844-8555
Mount Sinai Brooklyn: 718-951-3005
The Mount Sinai Hospital: 212-659-8990
Mount Sinai Queens: 718-267-4273
Mount Sinai Morningside: 212-523-2187
Mount Sinai West: 212-523-2187
New York Eye and Ear Infirmary of Mount Sinai: 212-979-4093
Mount Sinai South Nassau: 516-632-3484
Non Discrimination Statement
Consistent with federal, state and city law, it is the policy of the Mount Sinai Health System that the hospitals, ancillary areas, medical practices, and the Icahn School of Medicine will not tolerate hateful, discriminatory, racist, bigoted or abusive speech or behavior of any kind on the basis of age, color, disability, gender, gender identity, immigration status, marital or partnership status, military service, national origin, pregnancy, race, religion/creed, sexual orientation or any other status protected by law.