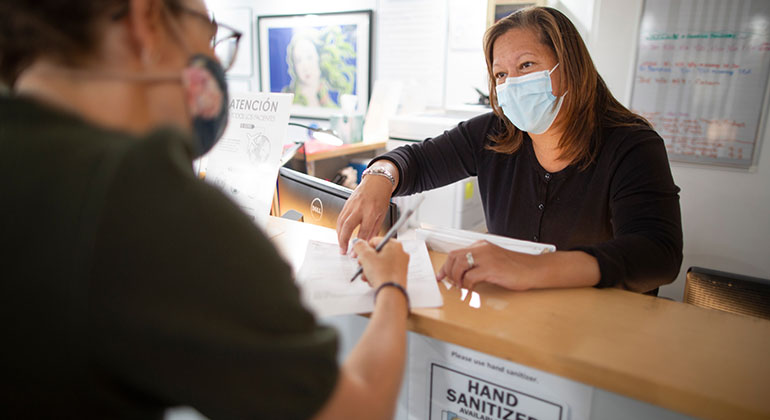 At Mount Sinai, we are committed to providing a safe environment everyone who walks through our doors—including patients, their loved ones, and our exceptional staff. We are working diligently to ensure the health and safety of every patient who depends on us for care. And as part of that effort, we are following New York State guidelines for visitors. Please check this page before each visit, as our policies can change frequently.
Visitor Policy
Mount Sinai welcomes visitors to the hospitals, including Emergency Rooms, as long as visitors adhere to the policy below. For visitors to our ambulatory locations, please see the ambulatory visitor policy.
The visitor policy for the Mount Sinai Health System is as follows:
Before A Visit
Visitors must be 18 years of age or older. Visitors may include family, friends, loved ones, clergy or other individuals of patient's choice.
Anyone who has been diagnosed with COVID-19 in the previous 10 days will not be allowed into the hospital.
Anyone who has been a household contact or in close contact with someone diagnosed with COVID-19 over the past 10 days will not be allowed into the hospital.
visitors must comply with NYS domestic and international travel rules and restrictions.
must wear a surgical mask during their visit. Masks with valves are not permitted. A mask will be provided if needed.
will be screened for symptoms, have a temperature check and be asked for contact information prior to entry.
must wash their hands with soap and water, or use hand sanitizer, before entering and exiting their loved one's room.
If needed, visitors will be given personal protective equipment (PPE) and shown the proper way to wear it.
During A Visit
Patients are allowed only one visitor at a time and a total of two visitors per day. At Mount Sinai Hospital, 2 visitors will be allowed at one time.
Inpatients are allowed a total of four hours of visitation each day, while Emergency Room patients are allowed a total of two hours of visitation.
When visiting an inpatient, visitors must keep their mask on and stay in the patient's room throughout their visit unless asked to step out by hospital staff.
Visitors may not be present during procedures and in the recovery room.
When a COVID-19 patient is receiving an aerosol generating treatment [e.g., nebulizer treatments, high flow oxygen and Bilevel Positive Airway Pressure (BIPAP)] visitors may not be present.
As defined by New York State, there are certain exceptions to visitation hours and limits. These exceptions include visitors for pediatrics, labor and delivery, end of life (imminent within 24 hours), and patients with cognitive or developmental impairments. Hospital leadership may apply additional exceptions as needed.
Visitors who do not comply with all of the above requirements will be asked to leave.
Hospital Visitor Hours
Mount Sinai Brooklyn: 2 pm - 6 pm
Mount Sinai Beth Israel: 3 pm - 6 pm
The Mount Sinai Hospital: 10 am - 6 pm
Mount Sinai Morningside: 12 pm - 6 pm
Mount Sinai Queens: 2 pm - 6 pm
Mount Sinai West: 10 am - 6 pm
Mount Sinai South Nassau: 1 pm - 7 pm
Please note, the visitor policy may be adjusted to ensure the safety of patients, staff, and visitors. This includes our Emergency Departments, which may have restricted visitation at certain times. Signage will be posted when restrictions apply.
UPDATED VISITOR POLICY – 05/07/2021
Ambulatory Visitor Policy
Updated: 8/14/2020
Visitors to the ambulatory setting during the COVID-19 pandemic will be limited to ensure proper social distancing within the practices based on current government recommendations.
Visitors cannot accompany patients with scheduled outpatient appointments unless they meet the outlined exceptions below:
Patients who require support persons during their visit e.g. the pediatric population, oncology patients, the geriatric population, patients with obstetric visits and patients with intellectual, cognitive or developmental disability.
Patients scheduled for outpatient surgery are allowed one visitor for the intake aspect of their care. The visitor cannot be present during the procedure or during the recovery time. They can return post-surgery to pick up the patient.
Visitor Screen Pre-Visit:
The visitor must be 18 years of age or older.
All visitors will be screened for symptoms of COVID-19 when they arrive at the facility. Anyone who has symptoms of COVID-19 or who has been exposed to or living with someone who has been diagnosed with COVID-19 within the last 14 days will not be allowed to enter.
All visitors are expected to comply with the New York State rules on quarantine for those traveling from designated "hot spot" locations. If you have traveled to a "hot spot" location in the past 14 days, you will not be allowed entry.
An exception to this rule is:
for companions to a patient undergoing a medical procedure, elective procedure, or other appointment that cannot be postponed.
for companions who have traveled with a patient from a hot spot for an essential procedure
end of life situations.
Patients and their companions must remain quarantined except for travel that is necessary to their medical care, and the companions must abide by the visitor policy while on our campuses.
All visitors must wear a surgical mask over their nose and mouth during their visit. A surgical mask will be provided if the visitor does not have one, or if the one in use is dirty, damaged, or has a valve. Any other type of mask is not permitted, including mask with valves etc.
Visitors will be asked to perform hand hygiene upon entry to the facility.
Please note, the ambulatory guide may be adjusted to ensure the safety of staff, patients and visitors.
New York State Quarantine Exemption for Patients
New York State has an exception from its quarantine rules for patients traveling for necessary medical care and for their companions.
If you have a procedure or appointment scheduled at Mount Sinai in New York that cannot be postponed, you and your support person/companion may travel to the extent necessary for your medical care, but then must remain otherwise quarantined.
More information on New York's quarantine policies can be found on the NYS website.