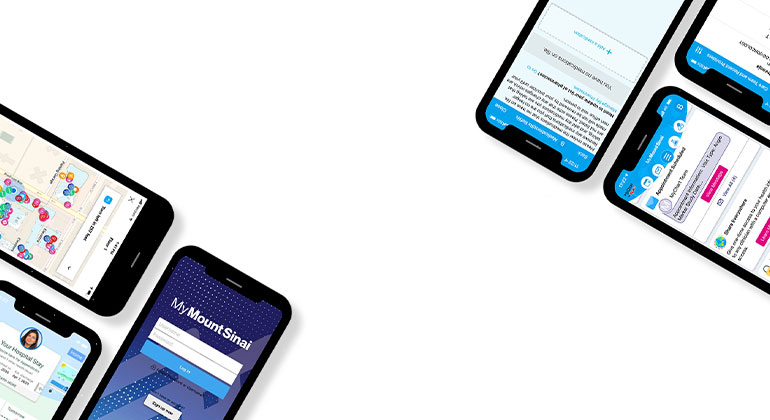 Frequently Asked Questions About MyMountSinai
At Mount Sinai, we are always striving to make it easier for patients to find and schedule the services they need. MyMountSinai® offers a streamlined experience with one single sign-on to gain access to our services. Our app enables you to explore and access virtual care, urgent care, or in-person care from a primary care physician or specialist. You will be able to:
Schedule or manage appointments with new or existing providers
Find a physician
Find virtual or in person urgent care
View your medical records and lab and test results
Send a message to your physician
Request prescription refills
Check in for appointments
View next steps after a visit
Upload your COVID-19 vaccination card or proof of vaccination, show proof of vaccination via a QR code, or export to health wallet
Find your way around select hospitals
Receive e-mail and/or text messages alerts when you have new messages or results in your account
Pay a bill using Apple Pay or Google Pay
How do I update my app to use the new features?
To access the latest features and improve app security, make sure your device is set to automatically update your app when a new version is released. Apple users should go to "Settings" and "App Store" and then turn on App Updates under "Automatic Downloads" to avoid manually updating the app. Android users should tap the profile in the Google Play Store, select "Settings," followed by "Network Preferences" then "Auto Update Apps."
Alternatively, you can manually update your app in the App Store or Google Play.
Can I use Touch ID or Face ID to sign on?
Yes, it's easy to set up Touch ID, or Face ID, depending on what your phone supports. Here's how to set it up.
Log into the app on your phone: Once you log in, click the menu button and look for "Account Settings."
Select your preferred authentication method: You will see toggle buttons for "Use Touch ID," "Use Face ID," or "Use Biometric Login," depending on your phone. Toggle the button for the method you prefer and complete the prompts.
How do I use the COVID-19 vaccination/test result QR code feature in the app?
In the main menu, click "COVID-19 Vaccine and Test Results" to control whether you share your COVID-19 vaccination or test status, or both.
Select the QR codes button to pull up a QR Code that can be scanned directly from the app.
Select the Download/Export button to download a vaccination PDF or export the QR code to a Health Wallet app on your phone.
Additionally, from the desktop version of MyMountSinai you can print the QR codes or save them as a PDF.
I don't have a MyChart or MyMountSinai® account. How can I set one up?
If you do not have a MyChart or MyMountSinai® account, you must contact your provider's office directly to obtain a MyMountSinai® activation code. If you have recently received an activation code that you would like to use, you can use the code to create your MyMountSinai® account here.
What happened to MyChart?
The features provided by MyChart are still available to you on MyMountSinai®. However, instead of going through the MyChart app or portal to access health records, book appointments, or search for providers, you can now get to these tools through the MyMountSinai® application.
Can I continue to use my MyChart login and password on the new app?
Yes, you can continue to use your MyChart login and password with the MyMountSinai® app. Recover your MyChart username and password.
How can I reset my MyChart password?
Please visit our MyChartReset page to reset your MyChart password.
Why are we changing to MyMountSinai®?
The change to MyMountSinai® is helping us start to bring the many services offered across Mount Sinai into a single platform, and giving us the flexibility to support new programs and features as well.
Is there a fee to use MyMountSinai®?
No, MyMountSinai® is a free service offered to our patients.
Do I have to use MyMountSinai®?
At this time, you do not have to use the app. You may continue to use your MyChart account as usual.
What technology do I need to use MyMountSinai®?
You need a smartphone with a camera or access to a computer connected to the Internet and an up-to-date browser (such as Google Chrome or Safari). Please add donotreply@mountsinai.org to your safe senders list to receive notifications in your email.
Some features, such as our MyMountSinai® video visits, have specific browser compatibility requirements. You can find which browsers for video visits are currently supported here.
If some of my health information on my MyMountSinai® is not correct, what should I do?
Your MyMountSinai® health information comes from your electronic medical record. If some of your health information looks incorrect, you can contact your care team to update that information.
How are my health records secured?
We take great care to ensure your health information is kept private and secure. Access to information is controlled through personal usernames and passwords. Each person controls their password, and the account cannot be accessed without that password. Further, MyMountSinai® uses the latest 128-bit SSL encryption technology with no caching to automatically encrypt your session with MyMountSinai®.
What is your Privacy Policy?
MyMountSinai® is fully compliant with federal and state laws pertaining to your privacy. Your name and email address will be treated with the same care and privacy given your health records and will never be sold or leased by MyChart or Mount Sinai Health System.
Who do I contact if I have further questions?
You may call the MyMountSinai® Support line at 1-855-343-3470.