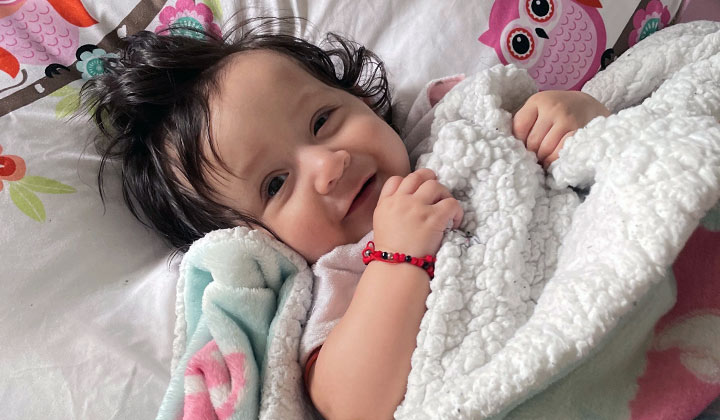 5-Month-Old Baby Girl, Sent Home by Two Hospitals, Is Diagnosed With Infantile Spasms and Given Immediate Care at The Mount Sinai Hospital
When baby Aaliyah started to have small seizures, her mother, Faustina Cavero, knew something was wrong. After her concerns were dismissed at two separate hospital emergency rooms, Mount Sinai's experts in Pediatric Neurology diagnosed infantile spasms and immediately admitted her baby.
In April 2022, Faustina Cavero's 5-month-old baby daughter, Aaliyah, started to make unusual, involuntary movements. She would suddenly stretch out her arms and clasp her hands and make grimacing facial expressions; she would also cry in between spasms. Faustina had never seen this type of behavior with Aaliyah's three older sisters, and was worried enough to take her to the emergency department at a local New York hospital. She showed the doctors a video she had taken of Aaliyah having a spasm, but they did not appear concerned. "They told me she was perfectly fine, that the movements would go away with time, and I was probably just under stress from recently having a baby," Faustina says.
However, Aaliyah continued to suffer from these spasm attacks for another week, and Faustina started to notice that she had stopped smiling and was less responsive to her external environment. Faustina and her husband decided to take her to another emergency department. Medical staff at the second hospital reached the same conclusion: there was nothing wrong with her baby, and Faustina was probably just overtired and stressed.
With the family still worried and dissatisfied with the diagnosis, Faustina's mother decided to look up possible causes for these movements and discovered they might be seizures. Faustina and her husband immediately started to look for an emergency appointment with a pediatric neurologist, and contacted the Mount Sinai Health System's Division of Pediatric Neurology. The next day, they met with Natasha Acosta Diaz, MD, Assistant Professor of Neurology and Pediatric Neurology at Icahn School Mount Sinai.
Prompt testing and treatment
"Faustina had a couple of very good videos of the baby. And immediately I was very concerned, because clinically they looked like infantile spasms, which is a specific type of epilepsy," Dr. Acosta says. Infantile spasms are a type of seizure that occurs in babies. If left untreated, the condition can lead to cognitive impairment, including issues with speech and the ability to walk.
"I immediately contacted the Pediatric Epilepsy Monitoring Unit (EMU) and told them I had a patient in the clinic who I thought should be admitted that day for an EEG to confirm the diagnosis and to start treatment," Dr. Acosta says, referring to an electroencephalogram, which measures the electrical activity of the brain. The EMU at Mount Sinai Kravis Children's Hospital is certified by ABRET, an organization that recognizes excellence in interpreting EEG tests and providing high-quality diagnoses.
Toni Kavanagh, RN, MBA, MSHA, CNRN, Pediatric Neurology Program Manager, came to the clinic and personally took Faustina and Aaliyah to the Epilepsy Monitoring Unit, where Maite La Vega-Talbott, MD, Assistant Professor of Neurology and Pediatrics and Director of the Pediatric Epilepsy Monitoring Unit at Icahn Mount Sinai, and the EEG team were waiting for them. Even without capturing the seizures themselves, Dr. La Vega-Talbott was able to observe a specific pattern on the EEG called hypsarrhythmia, a common sign of infantile spasms.
Faustina stayed by her daughter's side throughout this time, with the support of Toni Kavanagh and Dr. La Vega-Talbott. "I was watching all the doctors surrounding my baby, and she was crying and screaming—I felt so helpless. But Toni helped me to get through it."
Dr. La Vega-Talbott reassured her Aaliyah was going to be okay. "She told me, 'Listen, we're doing all we can to help your baby, and she's going to be fine. Believe me, we're doing what's best for her,'" Faustina told Today.com.
She was kept overnight on the EEG for further observation. Once the diagnosis was confirmed the next day, the Pediatric Neurology team carried out further tests, including a brain MRI, a heart evaluation, extensive blood work, and genetic testing. "A lot of things needed to be set up and measured before we could send her home," says Dr. Acosta. "It involved a big team doing their best for her."
Restoring a "smile that was lost"
Aaliyah was put on a treatment of ACTH injections, a hormone treatment that is injected into the thigh muscle to reduce infantile spasms. "It begins to work within two to three days, and the patient typically stops having seizures within five days," Dr. La Vega-Talbott explained to Today.com.
After a few days, Aaliyah started to respond to treatment, and her mother was given training on how to administer the injections. Her baby was discharged later that week. When she returned a month later for a follow-up and a repeat EEG, her seizures were now under control, and she was alert and smiling again. "After a week or two, the parents can start seeing their kid is a little more interactive, has better eye contact and that smile that was lost is coming back slowly," Dr. La Vega-Talbott says.
Faustina is very thankful to Dr. Acosta, Dr. La Vega-Talbott, and the Pediatric Neurology team at Mount Sinai, and she would recommend Mount Sinai to any parents looking for pediatric care for their child.
"Dr. Acosta has a special place in my heart. She will do whatever she can to help your baby and is always there to listen to you," Faustina says. "And Dr. La Vega-Talbott and all the nurses and doctors who looked after my baby, I really do appreciate all of them. In my eyes, there's no better hospital for me. I have switched the care for all of my children to Mount Sinai."
Faustina has stayed in touch with Toni Kavanagh since last year. "There are no words to explain her. She's like an angel when you need someone to be there for you. I invited her to my baby's first birthday, and she was there. She's a lovely lady and very helpful to us."
Today, Aaliyah is in good health and seizure free. Faustina hopes sharing her story will help other parents to be aware of infantile spasms, and to follow their instincts if they think something is wrong with their child.
"A mother always knows," she says. "If you know that something's not right with your baby, and one hospital, or even two, tells you everything is fine when you know it's not, you can always go for another option and get an appointment elsewhere."