Young Melanoma Patient Turns to Mount Sinai For Effective Treatment
When a pesky freckle turned out to be melanoma, Anna (a Mount Sinai employee) sought out Mount Sinai's surgical and dermatological expertise to remove the disease and keep her cancer-free
Anna Millhiser's commute to work one February morning was routine. She took the 6 train to 96th Street then walked to her office at The Mount Sinai Hospital, where she was the Communications Manager in the Department of Neurosurgery. However, that morning felt totally different, she wasn't going to Mount Sinai to work, she was going to have surgery.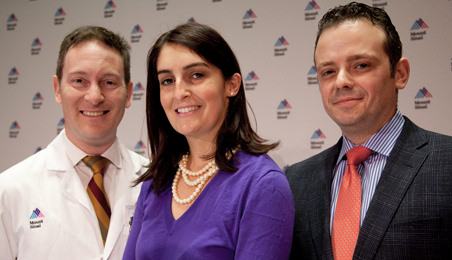 Two weeks earlier her friend, Janine, had called to invite her to dinner, explaining, "I have a dermatologist appointment at Mount Sinai next Wednesday night, want to meet for dinner after?" Anna had been meaning to go to the dermatologist ever since her mother started pestering her about a freckle on her ear that wasn't there before. She called Mount Sinai's Department of Dermatology and set up an appointment with Gary Goldenberg, MD, for the same night.
Dr. Goldenberg took one look at the freckle on Anna's ear and knew it had to come off. He explained the biopsy process: he would numb the area then cut off the surface of the skin and send it to his lab, then they would have the results back in a week. Anna called her mom after the appointment, and they laughed about how her mom was right – but she promised not to say "I told you so!"
Immediate Action Is Taken When Biopsy Results Confirm Melanoma
A week later Dr. Goldberg called Anna with the news: the freckle had come back as melanoma in situ, meaning it was the most fatal form of skin cancer but it had not invaded the lower layers of skin. He said she would need surgery as soon as possible to get clean margins around the melanoma and suggested she see plastic surgeon Peter Taub, MD, FACS, FAAP.
Shocked by the news – a cancer diagnosis at age 28 – Anna quickly set up an appointment with Dr. Taub. She knew Dr. Taub from various meetings and events around Mount Sinai, and she knew his reputation among her peers in Neurosurgery was outstanding. From their first meeting she felt better knowing he was in charge. He explained the procedure: he would take out a pie piece shape from her ear and sew it back together. She told him over and over that she didn't care what her ear looked like as long as the cancer was gone. Every time, he just smiled and said "Don't worry; we'll remove all of the cancer AND make sure your ear looks great."
The surgery only lasted about 45 minutes, and, an hour later, she was home resting with an ice pack. The next week felt like an eternity waiting for the results to come back, and, on her one-week follow-up appointment, she knew the news was good when Dr. Taub walked into the room with a big smile on his face. "We got it all, just as expected, you are cancer-free." He told her to buy a few big sun hats and monitor her skin closely. Now at a high risk of developing melanoma, Anna continues to have three-month follow-up full body scans with Dr. Goldenberg.
Lessons Learned
"I have a whole new appreciation for our patients," said Anna. "I'm happy I was treated at Mount Sinai; I felt so confident in my surgeon and his staff. I also learned a few important lessons: first, wear a hat, and, second, always listen to your mother – she's probably right."