Clinical Trial Helps Dawn Get Clear of Cancer
Dawn's History with Mount Sinai
Dawn always came to Mount Sinai Hospital for her healthcare needs. Not only did she have her first child at Mount Sinai, she was treated for a traumatic brain injury (TBI) she sustained after being shot in the head. Dawn received extensive rehabilitation, including vocational, educational, and physical therapy, and was referred to special schools to help her continue her education (she completed her GED and went on to get a bachelor's degree). She gave back to the hospital by volunteering with the TBI unit, offering support to other patients.
A Diagnosis Requiring Special Care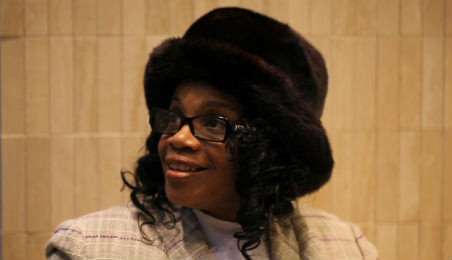 When Dawn was diagnosed with Stage IV head and neck cancer, she once again turned to Mount Sinai. She knew that with her TBI and resulting cognitive issues, such as short-term memory loss, she'd need special care.
"When people ask me why I always talk about Mount Sinai, it's because of the people here. The patient's needs do come first," says Dawn. "I had Krzysztof Misiukiewicz, MD taking care of me, and his entire team - nurses, social workers, and nutritionists." They helped her with issues such as managing her side effects during treatment and making sure her medication and exams were covered by her insurance plan.
Participating in a Cancer Clinical Trial
Dawn signed up for a clinical trial feeling that she wanted to try as hard as she could to overcome the obstacles she was facing, especially given the late stage of her cancer. She knew it could be difficult and was prepared to endure side effects such as lack of appetite and weakness – but she was willing to enroll in a clinical trial in order to have the best opportunity for a successful treatment. She also wanted to give back to the doctors and scientists who'd helped her so much, as well as the patients that would come after her.
Dr. Misiukiewicz, a medical oncologist who specializes in head and neck cancer and who oversaw the clinical trial in which Dawn participated, says, "Dawn is now free of cancer, and has the same life expectancy of any other person. Obviously, we are very thrilled and could not ask for more." He adds, "There is no way that we can move science forward and be able to help other people more unless we can study cancer, and the only way to do it successfully is to have patients like Dawn who are part of the clinical trials."
Risks and Rewards
According to Dr. Misiukiewicz, enrolling patients in clinical trials can be challenging, as doctors must explain to patients why they should voluntarily enroll in something extra, on top of everything else they are going through during a cancer diagnosis and treatment. After explaining the potential risks and rewards of participating in a clinical trial to Dawn, he says "it took her a split second to decide to participate." He says, "She is a living and walking example of what we can achieve." Now, Dawn is getting her master's degree in the field of mental health, and writing a book about her life story.
View the Clinical Trials at The Tisch Cancer Institute: Moving the Field Forward video.