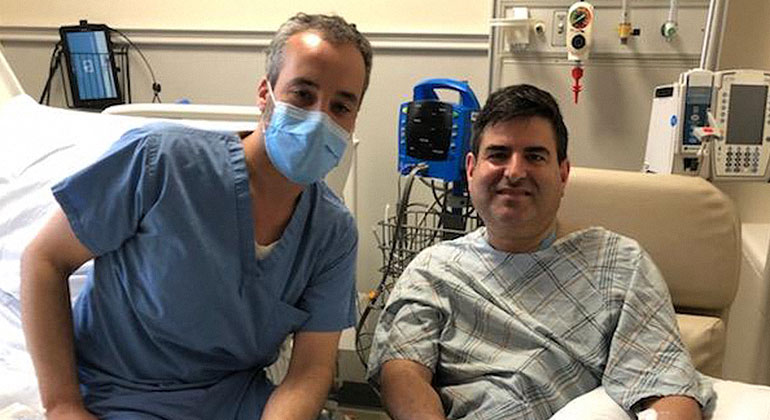 A Heart Patient and COVID-19 Survivor Donates to Help Others Before His Own Life-Saving Treatment
A decade ago, Alan Fein, a husband and father from Long Island, intended to donate a kidney to a stranger, but during a screening exam doctors discovered he had a heart defect that would prevent this act of kindness. Treatment was not recommended at the time, and Alan went on with his life. Fast forward to earlier this year, when Alan, a regular exerciser, found himself winded after climbing stairs.
At Mount Sinai Morningside, he was diagnosed with cardiomyopathy, a condition that makes it hard for the heart to pump blood around the body. Mark Miller, MD, a cardiac electrophysiologist, told Alan a defibrillator implant to pace his heart was the right treatment. By that time, though, the COVI9-19 crisis was gathering force. His Mount Sinai team hoped they could wait out the storm before scheduling surgery. Then, Alan contracted COVID-19, and was hospitalized. His doctors monitored him closely as his cardiac condition put him at a greater risk for complications from the virus. Thankfully, he made a full recovery.
His heart surgeon at MSM, Sumeet Mitter, MD, MSc, decided not to postpone the procedure any longer. But Alan now had a second opportunity to donate. This time, his plasma, in order to help someone else recover from COVID-19. (Plasma from COVID-19 survivors contains antibodies that can potentially help speed the recovery of those infected with the virus.) And he donated, right before his surgery. Alan was thrilled to get a second chance to do good. "This is the part that makes you feel like it's worth going through the whole thing, he told the Daily News. "You don't want anyone else to go through this."
Dr. Mitter says some people are delaying care because of fears about COVID-19—which Mount Sinai is addressing with stringent safety, disinfection, and social distancing protocols. Alan Fein did the right thing by seeking care promptly, Dr. Mitter says: "Complications can occur if people avoid medical care."