Talk Show Host Regains Career and Confidence at Mount Sinai
I say with all honesty to anyone who may have a hearing problem that the Center for Hearing and Balance at The Mount Sinai Hospital saved my career, enhanced my social life, and engendered a greater sense of personal well-being. And if they are experiencing hearing issues, I suggest they themselves go for the same treatment I had – a hearing evaluation and the probable purchase of hearing aids.
Baby Boomers, Listen Up!
It is not easy to admit that your hearing is failing.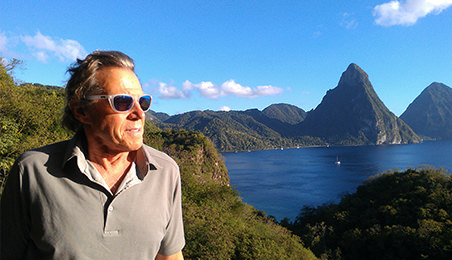 Boomers like me feel that wearing hearing aids will make them look old. The truth is you really can't see the aids, and cupping your hand to your ear, constantly saying "what?" or looking confused when someone is talking to you makes you appear older than your years. And if your mouth is hanging open while you are looking confused, that is worse.
Friends and Signs of Hearing Loss Point Bill to the Professionals at Mount Sinai
I am a talk show host, I interview people; I deal in the nuance of conversation. For me, listening is an art form. I am a music producer and the ability to evaluate the quality of a voice or the resonance of a chord is essential. I am a professional speaker; I present keynotes and personal empowerment seminars all over the country. Audience interaction and my response to questions is a primary element of that work. I needed the high-level professional expertise to be able to continue doing these jobs well that I received at Mount Sinai.
It was only a few years ago that I realized I was "missing things" that people were saying. I did not want to face the fact that I needed help. Many people do not want the stigma of hearing aids. For quite a while, I was one of those foolish, vain people in self-denial. It took the urging of several friends (who were probably tired of talking so loudly to me) to commit to solving my growing problem.
A personal referral from a friend led me to the Center for Hearing and Balance at Mount Sinai, where I worked with Bess Nagler, Doctor of Audiology. Bess is a young woman on top of her game, completely in touch with the latest technology, and doing what she does because of a desire to "help people." In one session, she tested me, we discussed my specific needs, and she recommended hearing aids that would solve my problem and meet the challenge of my work and life. A point of explanation here: for a while, I had been wearing hearing aids prescribed by an audiologist in a private practice, but they never came close to doing the job.
Unmatched Hearing Help at The Mount Sinai Hospital
I can unequivocally say that I would not be working as a professional in any of my fields today if I had not received the services I received at the Center for Hearing and Balance. I do not think I could carry on the happy relationship with my girlfriend Jane, or be deploying wit in conversations, or savoring the sounds of the birds on the grounds of our East Hampton home, or enjoying countless other experiences were it not for the Center for Hearing and Balance at The Mount Sinai Hospital.
I had a serious problem for a long time and Bess Nagler and her team solved it.
Thank you,
Bill Boggs
Bill Boggs is a four-time Emmy Award winning talk show host and professional speaker www.billboggs.com