From Swallowing Difficulties to Surviving a Chiari Malformation
My story starts eight years ago when I began having a terrible time swallowing and discovered I was aspirating food into my lungs. I made my rounds to the local doctors upstate and no one ever diagnosed me. While the doctor's ruled out ALS and myasthenia gravis, I truly never got a reason why this was happening. After months of speech therapy, my condition improved, and everyone assumed I was better.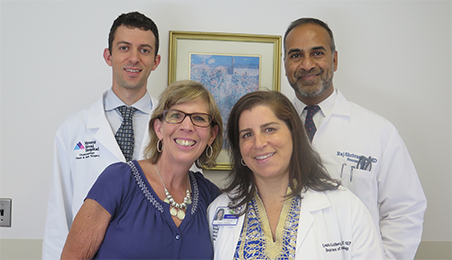 Fast forward to last year, my balance continued to worsen over the years (I could barely stand still without falling), along with my swallowing issues that returned. I began to see double vision and was driving for six months with one eye closed so I could see. I was scared to death. Finally, after not having received a definitive diagnosis, I visited my local pulmonary doctor, who referred me to Mount Sinai's Department of Otolaryngology – Head and Neck Surgery. She knew something was terribly wrong.
Referral to the Department of Otolaryngology Leads to Brain MRI and Chiari Malformation Diagnoses
I made an appointment with Ear, Nose and Throat physician Dr. Benjamin Tweel and Speech Pathologist Leanne Goldberg. They listened to my story and history with great concern. They were very patient and I knew immediately I was in the right place. They completed a swallow evaluation, and not to my surprise, I was aspirating everything they put in my mouth. Dr. Tweel insisted I get a brain MRI that same day. It was a late Friday afternoon and I remember being thankful the staff took me in on such short notice. On the return trip home, we weren't even across the George Washington Bridge, when my cell phone rang. It was Dr. Tweel. He told me he received my brain MRI and that I had a large Chiari Malformation. He said he was referring me to a neurosurgeon. I immediately started to cry, and he comforted me by insisting I was his top priority.
Dr. Tweel scheduled me to see neurosurgeon Dr. Raj Shrivastava to the following week. We met with Dr. Shrivastava, who was a kind, patient, and gentle man. He had my brain MRI on the screen for us to review, and explained what Chiari was - a malformation where the cerebellum of your brain extends into your spinal cord and blocks your spine from receiving cerebrospinal (CSF) fluid. He completed some tests in his office, reviewed ALL of my symptoms with me (i.e. balance, vision, swallowing and sleep apnea) and explained how the symptoms were caused from not having any CSF fluid running into my spine for over eight years. He explained that my chiari was very large and that brain surgery was necessary, as my quality of life was declining and would only worsen. He also explained that surgery wasn't a cure, but it would stop the symptoms from progressing. He never sugar-coated anything and answered my questions with honesty. I knew I was going to be in good hands. I am 51 and this was my FIRST surgery ever.
Surgery with Dr. Raj Shrivastava and Follow-up Care
My surgery was scheduled the following month. Dr. Shrivastava explained to me exactly in detail what to expect and put our minds at ease. From the moment I was wheeled into the operating room, I felt that I was in competent hands. I will admit, I was quite scared, but the kindness which was given me by the entire operating room team was extraordinary.
The surgery went extremely well, and the hospital stay and ALL staff there were phenomenal. Recovery wasn't easy, and it took me quite some time to recuperate, but Dr. Shrivastava and his team (especially his RN Barbara) were always there to answer questions.
I returned to see Dr. Tweel and Leanne Goldberg for another swallow evaluation. The evaluation showed improvement and was able to now eat soft food. Both of them were so sympathetic and considerate to my feelings and answered any questions of concern I had. I could not thank them enough for their supportive attitudes. After all, they discovered in one day, what no doctor upstate discovered in the past eight years.
"Surgery Saved My Life, and For That I Am Grateful; Mount Sinai Rates No. 1 in My Heart."
Fast forward to today, my balance is impeccable and I visited the eye institute to help with my vision. I recently went back for my third swallow evaluation and there wasn't any improvement. I will be on a soft diet forever. Regardless, I am better than I was before surgery. I cannot thank Dr. Tweel and Leanne Goldberg enough for insisting I get that brain MRI that afternoon and for finally getting a diagnosis after eight years of suffering. I also wish to extend my deepest heartfelt thanks to Dr. Shrivastava for his magical hands in my surgery. I believe if I didn't go to Mount Sinai that Friday, my symptoms would have progressed rapidly and I possibly would be dead.
Their compassion and honesty are deeply appreciated, and I can never thank them enough for everything they did for me. Surgery saved my life, and for that I am grateful. Mount Sinai rates No. 1 in my heart will always be grateful.
- Laura Murray