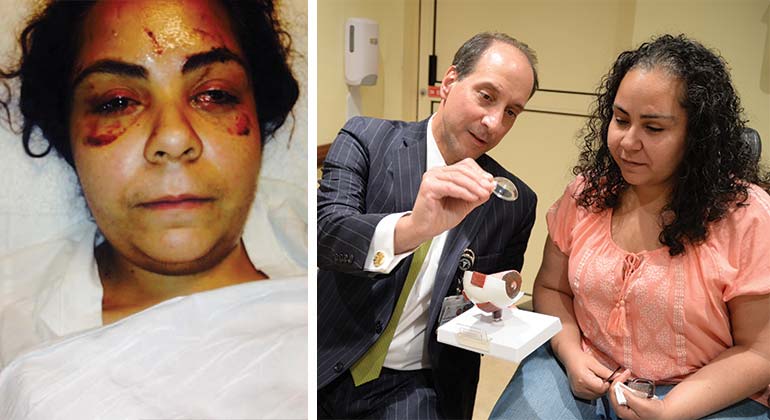 New York Woman Beats the Odds After a Violent Attack Results in Severe Eye Damage
Written by: Ali B. Taghavi and John Knox
American Academy of Ophthalmology
While most people don't look forward to doing something as mundane as laundry, for Julissa Marquez of Brooklyn, New York, the ability to see shapes and colors of clothing is a satisfying feeling. It is a complete departure from a violent assault that left her blind.
In December 2013, Julissa was stabbed 30 times in the face, neck, and back during a brutal attack by her boyfriend, and was later rushed to a nearby hospital with little hope that anything could be done to save her sight.
A Long Road to Recovery
The emergency room doctors examined Julissa noting the extent of her injuries. Her left eyeball was cut in half and had turned 180 degrees in its socket. Additionally, three of her six eye muscles were damaged and the optic nerve, which transmits visual information from the retina to the brain, was severed. In her right eye, the retina, which focuses images and relays information through the optic nerve to the brain, was completely detached. According to her physicians, her retina resembled a ball of crumpled tissue paper stashed in the rear of the eyeball.
After undergoing emergency surgery, Julissa spent nearly two weeks recovering in the intensive care unit. It was during her healing process that she received the devastating prognosis.
"Doctors told me I would never see again," she said. "But my faith and support from family gave me the strength to keep fighting."
After being discharged from the hospital, Julissa's mom researched ophthalmologists in her area for another opinion. She found Ronald C. Gentile, MD, an ophthalmologist and retina specialist at New York Eye and Ear Infirmary of Mount Sinai.
Mapping a Road to Recovery
Dr. Gentile reviewed Julissa's previous surgical evaluations and performed a series of tests to determine her visual condition. This information was used to calculate her ocular trauma score, which is a standardized method used to determine a person's visual acuity potential after severe eye trauma. It indicated that she had only a three percent chance of regaining any of her vision. "The prognosis wasn't encouraging," said Dr. Gentile. "But I promised Julissa that I would do everything in my power to restore as much of her vision as possible."
He mapped out a plan of action that would include 10 surgical procedures over a two-year period. Each surgery would focus on repairing a specific part of her eye, starting with reattaching the retina. Subsequent surgeries would follow to remove scar tissue in each eye, repair the damaged muscles, and realign the eyes.
"I was encouraged by Dr. Gentile's optimism and his plan to restore my sight," said Julissa. "After the third surgery, I regained a little bit of vision in my right eye. We were all amazed." Over the next series of surgeries, Julissa regained 30 percent of the vision in the right eye.
A Second Chance at Sight
After regaining partial vision, Julissa required vision rehabilitation resources and tools to help her learn new ways of doing everyday tasks. Through the Helen Keller Services for the Blind, Julissa gained new skills on how to function in her environment. She was also referred to a low-vision specialist, who prescribed corrective eyeglasses, which helped to clear some of the blurriness she experienced following the injury. Today, she can make out enough images to watch TV and go for a walk around her neighborhood.
Julissa also uses a new vision restoration technology called eSight glasses, which are low vision glasses that let her regain independence and carry out most of her daily activities.
"With Dr. Gentile and his team by my side, we beat the odds," said Julissa. "Thanks to him, I was able to see my son graduate from high school."
Julissa's case has received national media attention because of the brutal nature of the attack, the transformative care she received, and the results that truly defy the odds of what would be expected. "This is what ophthalmology can do," said Dr. Gentile. "The surgeries are a compilation of all the medical advances over the past 30 years. So, all of that is what enabled us to get the retina back into place, restore her vision, and give Julissa real hope to see again."