Patient Overcomes Oral Cancer with Vaccine and Robotic Surgery
An onset of frequent headaches and earaches triggered Maxine Prescott's internal health alarm during the winter of 2013-2014. Taking proactive measures, Maxine underwent several scans to determine a diagnosis but nothing was detected. Later, in April 2014, she felt two lumps in her neck. She sought the advice of her primary care physician, Herschel Sklaroff, MD, who recommended she immediately see Eric Genden, MD, Chairman of Ear, Nose and Throat-Head and Neck Surgery at the Mount Sinai Health System.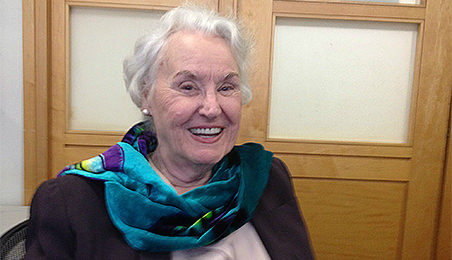 Mount Sinai was a second home for Maxine, as she was not only a graduate of The Mount Sinai School of Nursing but she also worked as a nurse at Mount Sinai for more than 20 years. Dr. Genden's team conducted a biopsy on Maxine, and results showed it was positive for oropharyngeal (oral) cancer.
Vaccine Injections and TransOral Robotic Surgery (TORS) Combination Treatment
"Dr. Genden and Dr. Marshall Posner explained to me and my daughter all of my treatment options, including the Advaxis vaccine clinical trial," Maxine recalls. "I decided to participate in the clinical study for two reasons:
I believe in efforts aimed to alleviate cancer and wanted to be an active participant in fighting it
One of the benefits of the vaccine in conjunction with robotic surgery is that it has the potential to reduce post-surgical treatment, such as chemotherapy or radiation
Maxine had three injections of the Advaxis vaccine over a five-week period. Immediately afterward, she underwent the transoral robotic surgery (TORS) on August 26, 2014. "Being a nurse, I knew about the benefits of robotic surgery, and thought if it was possible, I would elect to do that. Plus, I knew I was safe and in good hands with Dr. Genden."
During Maxine's robotic surgery, Dr. Genden removed six lymph nodes. Afterwards, "He and his team provided one-on-one observation and my primary care physician came to see me every day. I had drainage after the surgery, but was able to communicate within a week. And I did not need to do chemotherapy or radiation. Now I have minimal scarring under my neck."
Feeling Her Best Post Cancer Treatment at Mount Sinai
"The care I received at Mount Sinai was a very positive experience," Maxine, who is now an actress, recalls. "And my acting classmates came over to my apartment and filled my refrigerator with lots of ice cream. I received lots of calls and visits throughout this process. My daughter was with me the entire time and my son visited from Wisconsin – I had lots of support."
As for whether she would suggest that other oral cancer patients explore the vaccine clinical trial, "I would definitely recommend the Advaxis vaccine," she says emphatically. "It started destroying the cancer before my surgery, and I am not sure that I would be here without it."
The actress, who has enjoyed playing roles on "Boardwalk Empire" and the film, "Still Alice," says, "I feel better than I've felt in years! I have more energy, and I am more accepting of life as it comes along. The surgery was successful – I am clear of cancer and have no signs of it. I will continue to be monitored every three months, but now I'm totally independent, living alone in New York City. I am acting, auditioning and studying acting – and am looking forward to more!"