Surviving and Thriving: Sandra's Colon Cancer Story
After a routine colonoscopy, in June of 2012, I was informed that I had stage III colon cancer. I was devastated and was sent for numerous tests to see if it had spread. Luckily, it was caught in time and I was eligible for surgery.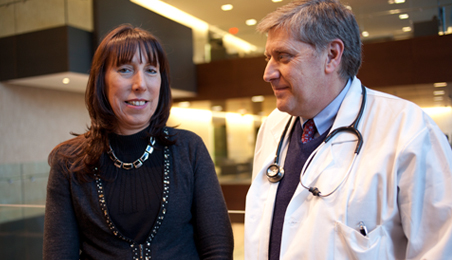 Dr. Subhash Kini from Mount Sinai performed the surgery and successfully removed the tumor. I recovered quickly and was eager to resume my life. Unfortunately, one of the lymph nodes came back positive and chemotherapy treatment was strongly recommended to ensure that it would not spread and increase my chances of not getting cancer again in another location.
I saw two oncologists from prestigious hospitals and was given the same news. I would need to have a port implanted and go to the hospital for one day a week. Furthermore, I would carry a container for two additional days and then return for the port to be disconnected. After hearing this news, I was devastated and could not deal with it. I could not sleep or eat for days and didn't know how I could work and have a normal social life under these circumstances. I kept asking if there was an alternative and was told by both doctors there wasn't any other choice.
Alternate Treatment Therapy Offered at Mount Sinai
Just as I was considering not doing anything and taking my chances, I met Dr. Randall Holcombe from Mount Sinai Hospital. He saved my life and made it possible for me to live an active professional and social life by recommending chemo in a pill form. He explained that the dosage would be strong and that there were possible side effects.
Dr. Holcombe gave me the option that no other doctor had given me. Thanks to him, I was able to lead an active lifestyle - both at work and at home. He took the time to know me as a patient and a person - he listened to my story and my fears, and he recommended what I needed and what would work for me.
Dr. Holcombe is a compassionate and knowledgeable doctor who understands his patients. I was fortunate enough to have him as my doctor and will be forever grateful.
- Sandra Litrico