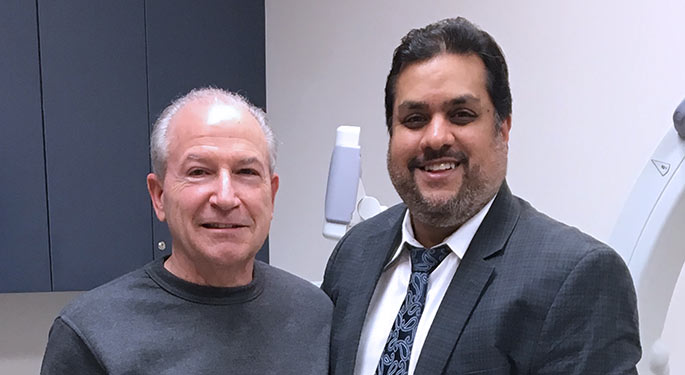 It Worked Out. And I'm Still Here
Several years ago Steve visited his local urologist and was diagnosed with kidney stones. He was going to have them removed but ended up passing the stones. He decided he wasn't going to go back to his local urologist, but fortunately for him he changed his mind and decided to go. They performed a cat scan and found a tumor. At this point his local urologist gave him only one option, remove the kidney. He was taken aback by this and against his urologist's wishes sought a second opinion.
Much to his relief, he found a urologist who gave him several options and he chose cryoablation. Cryoablation is a procedure that uses extreme cold to destroy tumor cells. Steve chose this option because it was minimally invasive. After some time, however, his urologist moved to California. Needing a physician in New York for his continued follow-ups, his urologist recommended Dr. Badani.
He read Dr. Badani's biography and looked at different sources of information about Dr. Badani on the internet and was impressed. Meeting Dr. Badani helped to solidify his decision to make Dr. Badani his primary urologist because "he's such an easy guy to talk to and is caring and compaassionate".
The upside to cryoablation is that it is the least invasive option to treat a small renal tumor. The downside is that the recurrence risk (chance the cancer will come back) is higher than surgical removal. Sometimes with cryoablation the tumor cells furthest from the coldest point or center of the tumor are not destroyed and the cancer can return. Steve's tumor eventually did return after his cyroablation procedure. Steve thought about the cryoablation option again but after Dr. Badani sat with him and explained the robotic option, he opted for a robotic partial nephrectomy instead. He decided that this was the best option because, again, it's minimally invasive, but also because he had grown to trust Dr. Badani and his staff. The cure rate of partial nephrectomy is the highest for kidney tumors, and the robotic approach is equally minimally invasive. Steve is now cancer free and his risk of recurrence is extremely low after robotic partial nephrectomy.
"Steve's story is important because it demonstrates that even after failing ablation treatment, we can still have a cure for kidney cancer with robotic surgery," says Dr. Badani.
"I am very happy I chose to go the robotic surgery route this time. It worked out and I'm still here." - Steve