First Patient Receives Leadless Pacemaker in the United States at The Mount Sinai Hospital
The first patient in the United States to receive a leadless pacemaker was Gregory Dobin, 83, at The Mount Sinai Hospital on February 4th, 2014.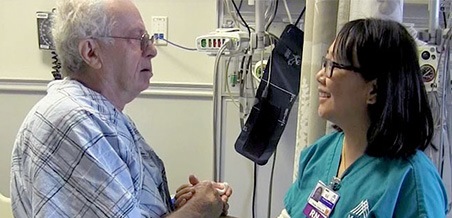 Gregory, a resident of Brooklyn, needed to have a pacemaker implanted to treat his reduced heart beat which caused him to have a pulse rate of about 35-40 beats per minute.
Gregory chose to enter the newly launched LEADLESS II clinical trial testing the safety and efficacy of the miniature-sized, leadless pacemaker device called Nanostim.
According to his doctors, right after the leadless pacemaker was non-surgically implanted directly into his heart's chamber, Gregory's pulse successfully increased to a more healthy 60 beats per minute.
"I am excited, my pulse is now in the 60s, and I am excited since everyone wants to live longer," says Gregory. "I am looking forward to follow-up in 10 years, and thankful the Mount Sinai Hospital has helped me. This new pacemaker is good news, and I would recommend the technology to anybody in need. My pulse was about 43 and now it's 60 plus. It's a miracle. I thought the U.S. would be first to use this technology, but Europe is already doing it."
Gregory and his family are hoping the new pacemaker will make him feel better daily.