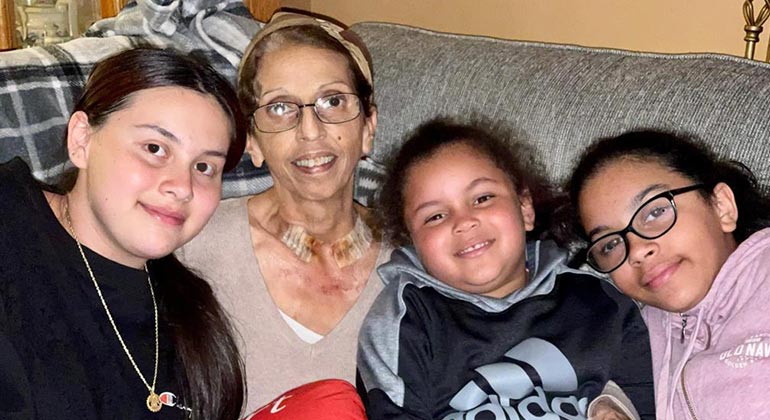 Staten Island Grandmother Undergoes Rare Heart Surgery at Mount Sinai—And Recovers for Mother's Day
When Nancy Lopez, a Staten Island grandmother, developed a life-threatening aortic aneurysm, the team at Mount Sinai Heart at Morningside knew they had to get creative.
Nancy's journey began when she developed severe chest pain and was struggling for breath. After being rushed to the emergency room at Richmond University Medical Center in Staten Island, it was determined that she had a sudden, massive aneurysm of the aorta. An aneurysm is caused by the weakening of the artery's wall, causing the artery to balloon—and in severe cases, rupture.
Once diagnosed, Nancy was transferred by ambulance for specialty care at Mount Sinai Morningside, one of the eight hospitals in the Mount Sinai Health System, which has a clinical and academic partnership with Richmond University Medical Center.
The case was complicated because Nancy had severe emphysema as the result of smoking, in addition to other lung issues. The doctors didn't think she would be able to survive open heart surgery. And if she did survive, she would probably have to go on a ventilator, which would make her situation even more precarious.
Gabriele Di Luozzo, MD, Director of Aortic Surgery at Mount Sinai Morningside, explained, "We had multiple discussions about the consequences of having traditional surgery, which in her case meant she might be on a respirator for an extended period of time. So we were thinking about an alternate method—taking care of the aneurysm and preventing complications from her lungs."
Dr. Di Luozzo and Daniel Han, MD, a vascular surgeon at Mount Sinai, got creative and brainstormed another plan—a minimally invasive stenting procedure. This procedure would avoid the risks of open heart surgery and spare her brain from a lack of blood. But in order to treat the aneurysm, they would place the stent through access points in both the neck and the groin, a rare procedure that has only been performed about 50 times in the world—and never in the New York area.
The operation required extremely advanced imaging capabilities, which Mount Sinai Morningside possessed. The team needed to have precise visualization of Nancy's anatomy to perform the surgery safely.
"Not many centers offer this procedure. It's a very unique operation, and we have all the resources at Mount Sinai," Dr. Han said. "We had a very good result, a speedy recovery, and no respiratory issues. She went home a few days after surgery. She didn't suffer a stroke, and all organs were working well."
In fact, Nancy made it home just in time for Mother's Day, which she celebrated with her husband, Miguel, her children, and three granddaughters. "I want to thank the doctors from the bottom of my heart," she said. "I'm looking forward to a bright future."