Birgitta Gives Appreciates "Personalized Care" from Dubin Breast Center
I discovered I had breast cancer through a routine mammogram. I didn't feel sick; I didn't notice lumps in my breasts; the news hit me out of the blue. My tumor was so large I had to have chemo to shrink it before I could have surgery.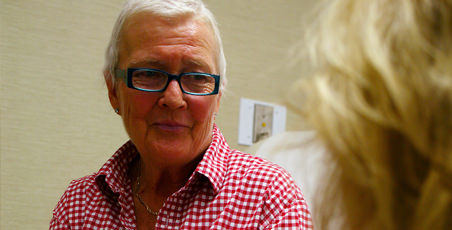 But I can't stress enough how comforting it is to be in good, highly capable hands during a frightening time. Throughout my entire treatment process, I always felt safe. I knew I was in the right place, and having that knowledge plus some cancer buddies made a big difference in my attitude.
My best cancer buddy and my No. 1 hero is my 25-year-old daughter, Ali, who sat with me through my chemo sessions. She brought goodies, music, and cross-word puzzles, and most important of all, she brought her great sense of humor. Thanks to her, we laughed our way through, conquering chemo with jokes.
My other cancer heroes are the members of my treatment team. Knowing that my entire care team, from physicians to nurses, to other staff, placed me in a warm and powerful circle of care strengthened me, and being asked to serve on the Dubin Breast Center's Advisory Committee empowered me and gave me something positive upon which to focus.
Composed of patients, doctors and administrators, the committee was charged with identifying services and amenities to help patients feel relaxed and comfortable during their course of treatment. Now that those services have been implemented, I can attest to the fact that they make a difference.
The Dubin Center's warm, soft and peaceful atmosphere helps me relax. I like having all my doctors and treatments in one centralized location so I don't have to travel from place to place carrying records. I also enjoy the free snacks and lunches, and, most important of all, I appreciate the very personalized care I receive from everyone at the Dubin Breast Center.