Boris' CSF Leak Repair and Elation with His Care
This all started in March 2014, when I was in my office working; all of a sudden, some fluid leaked through my nose. It wasn't like anything people usually refer to as sinus fluid. Then it happened two days later and then four days later – fluid just rushed out my nostril. My primary care doctor said it didn't look like a regular sinus infection, but advised I take some antibiotics and return in a week. So, that was exactly what I did.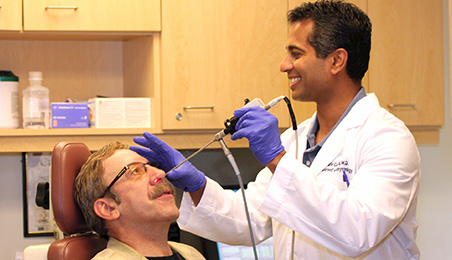 After I returned to the doctor, he said, "This might be a cerebrospinal fluid (CSF) leak." I asked him, "What the heck is that?" And he explained it to me and recommended I see a professional. So I went to this referred physician in New Jersey, and the CT scan revealed nothing. Then I went for a second CT scan and the physician saw something that attracted his attention and he said, "This looks very unusual. This is most likely a university or academic medical center case, so I've made an appointment for you with Dr. Satish Govindaraj link to at Mount Sinai. I saw Dr. Govindaraj in April and explained to me on the computer using my CT scan why this CSF leak needed to be repaired. He also said if we did not do the surgery, I might me at risk for meningitis. So I underwent a CT scan and MRI at Mount Sinai and then the procedure that would repair my CSF leak.
Boris' CSF Leak Surgery with a Head and Neck Surgeon and Neurosurgeon
On May 14 at 7 a.m., I arrived for the procedure that was performed an hour later by Dr. Govindaraj and Neurosurgery Chairman Dr. Joshua Bederson, who was there to ensure my brain was intact during the operation. Later I awoke surrounded by my wife and son, and Dr. Govindaraj came in and said that the leak was so deeply situated in my brain that they spent much time trying to establish how to gain access to my brain with minimum invasiveness.
Post CSF Leak Surgery Sentiments
Everything was performed brilliantly, thanks to the great professionalism of Dr. Govindaraj and Dr. Bederson. But when it comes to surgery, it's not just professionalism of the highest marks that one should seek; it's also great talent born from the heart. If you see your doctor smile at you with confidence like Dr. Govindaraj does, you then live with hope.
Dr. Govindaraj is truly the best! He is a brilliant professional and Mount Sinai should be proud to have physicians like him under their roof. I can't stress enough that when choosing a physician, professionalism is not enough – it's how you feel after you see your doctor. If you leave filled of hope the way Dr. Govindaraj leaves you, that alone is enough to get you through it.