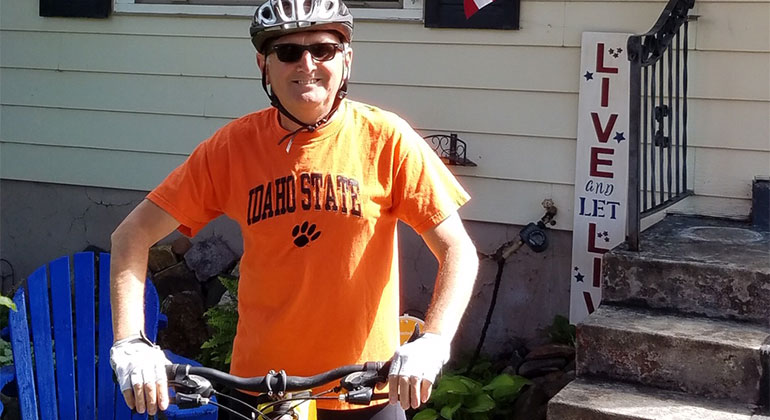 Overcoming Fears of COVID-19, He Has Life-Saving Heart Surgery 2,500 Miles From Home
Jeff Street, a college professor in Idaho, was born with a bicuspid aortic valve, a malformation in which the heart has two leaflets instead of three. But never let his condition slow him down and maintained an active lifestyle, including a love of cycling. In his early 30s, he underwent surgery known as the Ross procedure to replace the aortic valve.
However, earlier this year—about 30 years after that surgery—Jeff started to feel "sluggish," and an echocardiogram revealed that he had an aortic aneurysm, which can cause instant death if not treated in a timely manner, as well as a severe leak across the aortic valve. His medical team told Jeff the procedure was too complex to perform locally and referred him to the Mount Sinai Health System.
Jeff's surgery was scheduled for March 2020 with Ismail El-Hamamsy, MD, PhD, Director of Aortic Surgery for the Mount Sinai Health System. Unfortunately, due to COVID-19, the surgery had to be postponed. Dr. El-Hamamsy and his team at The Mount Sinai Hospital monitored Jeff's health utilizing telemedicine. When they gave Jeff the green light to come East, the team helped make his travel and hotel arrangements. But Jeff was nervous. He was concerned about flying due to COVID-19, and being in New York for the same reason. And he decided to come to New York alone, as he did not want his family to risk their health.
Dr. El-Hamamsy performed the surgery on June 9. "When we operated on Jeff, we actually saw a little tear in the aorta right where the aneurysm was," Dr. El-Hamamsy said in an article about Jeff's care on the Fox News website. This was a very ominous finding. Jeff's aortic valve was replaced once again, as well as portions of his aorta. The surgery, known as the Bentall procedure, was successful. Five days after the procedure he was discharged and walking—masked—on the streets of Manhattan.
Jeff says he has only felt minor discomfort since his surgery, but importantly immediately felt like he was breathing easier. "I have returned to the things I love the most, playing with my two-year-old grandson and cycling," he says. "I am happy that I did not let my fears of COVID-19 get in the way of life saving treatment and that I had good fortune to have been referred to Dr. El-Hamamsy. "