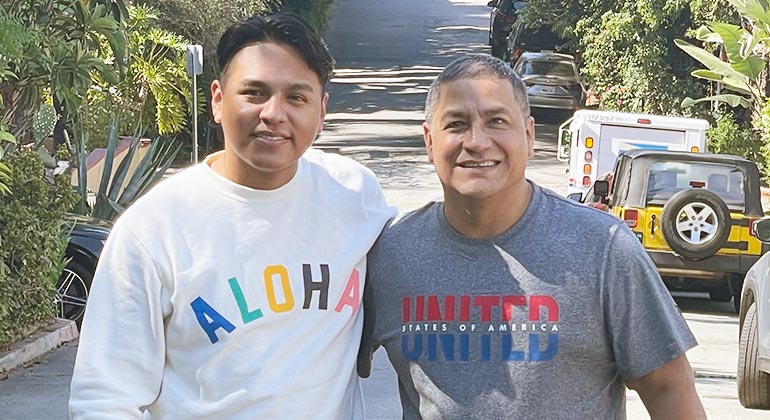 Severely Challenged by a Heart Disorder and COVID-19, a Young Woman is Living to Her "Fullest Extent" After Advanced Ross Procedure
Claire Bridges was born with aortic valve stenosis, a common congenital disease where blood flow from the heart to the rest of the body is restricted due to a malformation of the leaflets (or cusps) of the aortic valve, which connects to the aorta, the heart's main artery. The condition puts increased strain on the heart and causes breathlessness and fatigue.
Claire, an optimist by nature, didn't let her condition stand in her way. She had an apartment in St. Petersburg, Florida, a large group of friends, and worked as a model and a part-time bartender. She maintained a healthy lifestyle and knew how to monitor her symptoms. "I could work out, but I could never play sports," she told CNN in a report on her health journey.
In 2022, when she was 21, a series of extraordinary setbacks severely tested her optimism and resilience and ultimately led to expert care from Ismail El-Hamamsy, MD, PhD, Director of Aortic Surgery at the Mount Sinai Health System.
Claire's challenges began In January 2022, when she contracted COVID-19. Despite being vaccinated and boosted, unfortunately she experienced serious complications. "Extreme fatigue, cold sweats, progressively it got harder to eat or drink anything. Then one day my mom found me unresponsive and rushed me to the hospital," Claire says. She almost died that night. "I flat-lined three times."
Her organs started to fail, and her heart was no longer strong enough to pump blood to her extremities. The tissue in her legs started to die. After a number of attempts to save her legs, surgeons in Florida were left with no choice but to amputate both legs just below the knee. But her battle was not over, as further complications caused her body to stop processing nutrients from solid food. Her weight plummeted from 127 pounds to around 60 pounds.
Along with these severe challenges, there was also the overriding issue of her getting treatment for her severely damaged heart. The aortic valve usually has three "cusps" or flaps that that allow blood flow from the heart into the aorta and to the rest of the body. Claire had been born with just two of these "cusps," and her recent hospitalization had left her close to experiencing heart failure with normal daily activity.
Claire's doctor discussed the case with her colleagues, and after conferring with a cardiac surgeon it was immediately recommended that Claire see Dr. El-Hamamsy at The Mount Sinai Hospital. As the Director of Aortic Surgery for the Mount Sinai Health System's heart valve reference center, Dr. El-Hamamsy receives referrals of the most complex cases from around the world.
In spring 2022, Claire's doctors in Florida arranged for her to have a virtual appointment with Dr. El-Hamamsy, to discuss the advanced surgery known as the Ross procedure.
Claire's specific heart condition and her youth made her an appropriate candidate for the Ross procedure. Unlike traditional surgery, where the aortic valve is replaced with a valve made from synthetic materials or animal tissue, the Ross procedure uses the patient's own pulmonary valve, which is "a mirror image of a normal aortic valve with three cusps," Dr. El-Hamamsy says. "It's a living valve, and like any living thing, it's adaptable. It becomes like a new aortic valve and performs all the very sophisticated functions that a normal aortic valve would do." Within a few months, the pulmonary valve becomes thicker and stronger and begins to behave like an aortic valve.
"The Ross procedure is the only replacement operation for the aortic valve that allows patients to have a normal life expectancy and a completely normal quality of life with no restrictions, no modifications to their lifestyle, and a very good durability of the operation," says Dr. El-Hamamsy.
Claire was in especially good hands. Dr. El-Hamamsy has performed more Ross procedures in the past 15 years than any other surgeon in the world. He has set up Ross programs in more than 30 centers globally, mentoring other physicians, and more than 250 surgeons have observed and trained with him. In addition, the Department of Cardiovascular Surgery at The Mount Sinai Hospital is one of the only complete valve reconstruction programs in the country, with globally recognized leaders for both mitral and aortic repair. This means the physicians can treat complex issues within the whole heart with the goal of repairing versus replacement when possible—giving patients a more durable outcome.
Before undergoing the surgery, Claire needed to gain strength and weight. During the next six months, she exhibited the same resilience that had helped her fight through COVID-19, and by the end of December 2022, she was ready. "I was nervous about undergoing this surgery, I think anyone would be," Claire says. "However, Dr. El-Hamamsy reassured me that I would be okay. His confidence in his skill, his understanding nature, his kindness is something that I truly am appreciative of and grateful for."
Dr. El-Hamamsy says Claire has made an "excellent recovery." As of spring 2023, she was undergoing both cardiac rehabilitation and overall physical rehabilitation. She had already seen a significant improvement in her quality of life since her heart surgery.
"Since I underwent the Ross procedure, not only has it improved my physical state, but also my mental state," she says. "Being able to walk from my room to the kitchen without getting short of breath, working out without fatiguing after the first set, waking up and not already wanting to fall back asleep. All of the little things that I had become accustomed to that aren't normal to have with a 'healthy heart' have gone away. I plan to get back to rock climbing, and have ordered my running blades to start running track soon."
Claire has also started modelling again and is planning to hone her art skills and go back to school. "I'm forever grateful to Dr. El-Hamamsy, his entire team, and the nursing staff of Mount Sinai," she says. "I hope to visit Dr. El-Hamamsy in the future, so he can see the life that he and his team saved was used to the fullest extent possible."