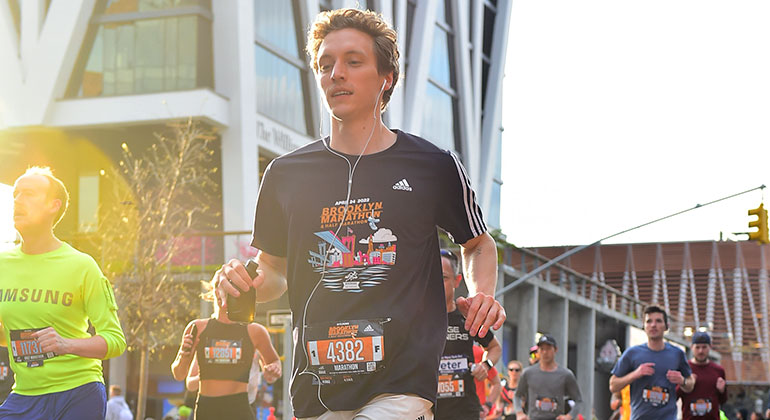 Running a Marathon: A Dream Fulfilled After Treatment for Congenital Heart Defect
Travis Allen, 30, was born with a complex congenital heart disorder (CHD) called coarctation of the aorta, in which part of the aorta—the largest blood vessel in the body—is narrowed, forcing the heart to pump harder. When he was three months old, he underwent a surgical procedure to fix the coarctation of the aorta. As he was growing up, Travis wanted to cross off an item on his bucket list: to run a marathon. But an obstacle arose when Travis was told as an adult that he might need another procedure because the area where the prior surgery was done had narrowed again.
Travis had many friends in the adult congenital heart disease community, and a family friend recommended the Mount Sinai Adult Congenital Heart Disease (ACHD) Center. Travis met with Ali Zaidi, MD, Director of the Mount Sinai ACHD Center, and Barry Love, MD, Director of Congenital Cardiac Catheterization Program at The Mount Sinai Hospital.
Travis was comforted by the fact that the team was very experienced in CHD procedures in both children and in adults. In addition, Travis was reassured that Dr. Zaidi took a keen interest in his dreams and goals, and supported his wish of running a marathon. Having the support of Dr. Zaidi's team was priceless to him. Dr. Zaidi recommended Travis have a cardiac catheterization procedure to place a stent to fix the narrowing in his aorta.
"Almost 90 to 95 percent of children who are born with CHD survive into adulthood," says Dr. Zaidi, Associate Professor of Medicine (Cardiology) and Pediatrics at the Icahn School of Medicine at Mount Sinai. "They need long-term evaluation, but it's very important to understand that the treatments we now have are tremendously successful—and these children can grow up and lead typical adult lives. It is now estimated that there are more adults with CHD than children living with CHD in the United States."
Dr. Love performed the interventional catheterization procedure. Travis spent a few days at The Mount Sinai Hospital, where he said the care was impeccable.
"I was treated with so much kindness and respect by everyone, throughout the whole experience. The anesthesiologist talked to me beforehand, and we bonded over the fact that he, too, had a heart condition. The nurse in the operating room who helped transport me was so funny and light-hearted that it really calmed my nerves going into the procedure."
Travis began preparing for the Brooklyn Marathon after his recovery.
"I ran the Brooklyn Marathon in 3 hours and 19 minutes, which was beyond my loftiest goals when I first started training for the marathon," Travis says. "I recovered well and continued to feel no symptoms. I am personally convinced that I am in better cardiovascular shape than I was pre-procedure." With Dr. Zaidi and the team at the Mount Sinai ACHD Center, Travis was able to cross off running a marathon from his bucket list.