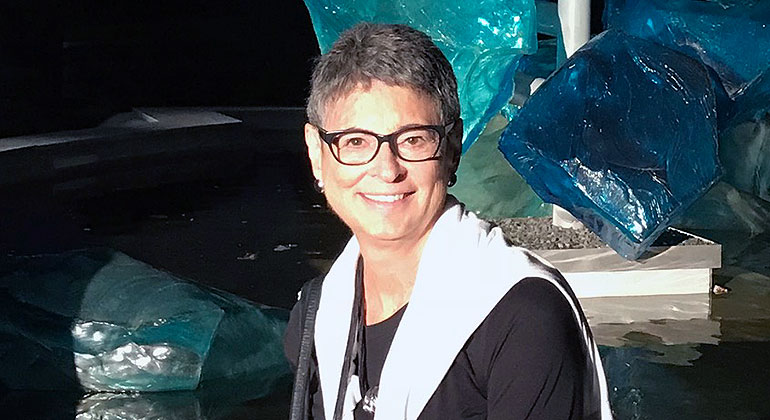 Routine Urine Test Leads to Life-Saving Treatment for a Cancer-Related Heart Condition
When Helen Sturm, now 75, went for her annual checkup in 2011, she was expecting to get a clean bill of health. A retired New York State judge, Assistant District Attorney in New York County, and now a legal consultant in matrimonial matters, Helen was in good shape and had no known medical issues. However, one test result started an unexpected chain of events and expert care at The Mount Sinai Hospital that would permanently change her life.
The routine test showed some abnormal proteins in her urine, and this prompted her primary care physician to refer her to Brenda Panzera, MD, Assistant Clinical Professor of Medicine (Hematology and Medical Oncology) at the Icahn School of Medicine at Mount Sinai. Dr. Panzera was concerned that the test results might be a sign of a blood disorder and recommended a bone marrow biopsy. This is a procedure where a small sample of bone containing bone marrow is removed, usually from the hip. The biopsy showed that Helen had MGUS (monoclonal gammopathy of undetermined significance). MGUS is a blood disorder where an abnormal protein develops in plasma cells in the bone marrow. Most people with MGUS do not have any symptoms and the condition remains benign, but sometimes it can lead to serious illnesses, including a blood cancer called multiple myeloma.
Helen remained stable, without any treatment and with regular surveillance bone marrow biopsies, for more than six years. However, in spring 2017, a bone marrow biopsy resulted in a diagnosis of multiple myeloma with AL (amyloid light-chain) amyloidosis. About 10 to 15 percent of people with multiple myeloma will develop AL amyloidosis, a condition where abnormal amyloid proteins are produced by plasma cells in the bone marrow, which can potentially build up in other organs.
Helen related the following: "Immediately thereafter, Dr. Panzera referred me to Dr. Ajai Chari for treatment, I have been in the care of Dr. Chari, and his extraordinary team, since that time. Dr. Chari's team consists of physicians who specialize in the areas of medicine that directly affect their patients' primary diagnoses, such as oncology. These physicians work closely with Dr. Chari and coordinate patient treatments to assure consistency of treatment. From my perspective, the team approach utilized by Dr. Chari is uniquely designed to assure the most effective treatments of each patient. I am fortunate to be one of them."
Ajai Chari, MD, is a Professor of Medicine (Hematology-Medical Oncology) and Director of Clinical Research in the Multiple Myeloma Program at the Mount Sinai Health System. During Helen's first visit, he confirmed the initial diagnosis of multiple myeloma with amyloid features through a fat cell biopsy and analyzed blood tests to determine what organs were involved. He identified abnormalities in Helen's blood tests that suggested the AL amyloidosis was affecting her heart, colon, and kidneys, and noted that the amyloid was likely throughout her body but would require further testing to confirm. Dr. Chari immediately began treatment for multiple myeloma and AL amyloidosis.
Dr. Chari brought in Gagan Sahni, MD, FACC, FACP, FICO-OS, Director of the Cardio-Oncology program at The Mount Sinai Hospital and a specialist in cardiovascular diseases in cancer patients, including AL cardiac amyloidosis. After performing magnetic resonance imaging (MRI), Dr. Sahni analyzed tissue biopsies and blood tests looking for cardiac "biomarkers" or signs of the condition and confirmed that Helen had AL cardiac amyloidosis.
"AL amyloidosis affecting the heart is often misdiagnosed or diagnosed late, and if left untreated can lead to irreversible and often fatal congestive heart failure," Dr. Sahni says. "Although it is not curable, a number of effective treatments are now available, including specialized immunotherapy and chemotherapy regimens, including novel drugs such as daratumumab. These treatments reduce the production and build-up of amyloid protein in organs, providing patients with AL cardiac amyloidosis a very promising future."
"Alongside the essential role of specialists such as Dr. Chari giving patients like Helen timely treatments targeting AL amyloidosis, is the collaborative role of a cardio-oncologist, Dr. Sahni says. "Not only is an early diagnosis of AL cardiac amyloidosis essential, but these patients often have low blood pressure, fluid accumulation, and arrhythmias that need to be managed by a specialist familiar with the condition. Additionally, some treatments for myeloma can have potential cardiac side effects."
Helen underwent several rounds of chemotherapy with numerous drugs administered by infusion, including daratumumab, as well as prescription oral medications from 2017 to 2021, and in 2019 underwent a stem cell and bone marrow transplant, for which she was hospitalized for three weeks. Throughout Helen's journey of oncology and related treatments, she was closely monitored by Dr. Chari and Dr. Sahni, along with several other physicians during in-person and telemedicine visits.
"Dr. Sahni is an extraordinary physician who excels in all respects," Helen says. "From our first encounter, she impressed me with the depth of her knowledge of my condition and the amount of time she spent explaining it to me, including how the cancer would have an impact on my heart functioning. She thoroughly explained the treatment options and the treatment she felt would be the most effective, and, from my perspective, she was right. She listened to my questions and concerns with thought and patience, and always returned phone calls and e-mail communications in a timely manner, something much appreciated by patients with serious conditions. She is extremely bright, diligent, and down to earth, without any pretensions. Treatment of her patients is clearly her primary concern, and she administers their care in a kind, respectful, and courteous manner, always mindful of her patient's comfort, both physical and emotional."
Helen no longer receives chemotherapy infusions and her condition is managed by drugs administered orally and by injection. Her monthly blood tests and other diagnostic tests reflect that her multiple myeloma is under control, and the cardiac biomarkers in her blood have normalized. Her heart muscle is strong, with no evidence of congestive heart failure.
"I consider myself the healthiest cancer patient alive," Helen says, "and attribute it to the extraordinary care I have received from my doctors, nurses, and staff at Mount Sinai."