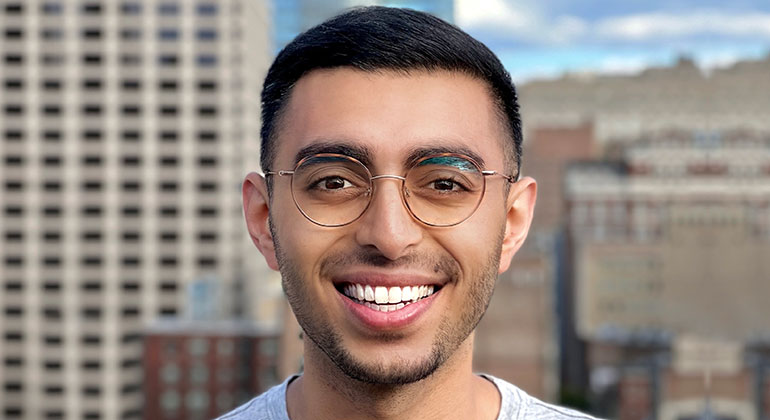 Collaborative Care at Mount Sinai Treats a Young Man with a Life-Threatening Heart and Blood Condition
Sarosh Mawani was only 25 years old in 2019, when he started to have breathing problems. He would become breathless with simple activities, get unexplained nasal congestion and developed joint pains. As a previously healthy young man with no known allergies or medical issues, he was alarmed.
After a few visits to urgent care centers in Manhattan for his breathing, he was initially diagnosed with asthma. Treatment for asthma did not improve his symptoms and noting an abnormality in his blood tests, Roshni Naik, MD, Assistant Professor of Medicine (Clinical Allergy & Immunology) at the Icahn School of Medicine at Mount Sinai referred Sarosh to John O. Mascarenhas, MD, Director of the Center for Blood Cancers and Myeloid Disorders in early 2020.
In March 2020, blood tests carried out by Dr. Mascarenhas' team led to a diagnosis of a rare blood disorder, hypereosinophilic syndrome (HES), where the body produces severely elevated levels of eosinophils (a type of white blood cell) that attack various organs of the body including the heart. Sarosh had an urgent heart magnetic resonance imaging (MRI) that showed inflammation and a serious weakening of his heart muscle caused by the eosinophils, a condition called eosinophilic myocarditis.
To ensure he received the best care for his heart, Sarosh was referred to an expert in treating cardiovascular disease in cancer patients—Gagan Sahni, MD, Director of the Cardio-Oncology Program at The Mount Sinai Hospital. Dr. Sahni took over his care in March 2020, during the first wave of the COVID-19 pandemic, when Mount Sinai Hospital was being flooded with COVID-19 admissions. Despite the increased demands on the hospital, Sarosh was admitted at short notice for a cardiac biopsy. The procedure involved taking small samples of the heart through a minimally invasive right heart cardiac catheterization to confirm the diagnosis.
Dr. Sahni then prescribed high-dose steroids to stop the infiltration of heart muscle by eosinophils, heart medications that specifically strengthen the heart muscle and blood thinners to help reduce the risk of stroke and blood clotting. Sarosh returned to The Mount Sinai Hospital at regular intervals for MRIs and echocardiograms to monitor the condition of his heart, and attended frequent telemedicine visits with Dr. Sahni to monitor his response to the medications and to discuss test results.
"Dr. Sahni has been so helpful through the whole process," Sarosh says. "From being honest about my rare condition, to educating me and my family, and being empathetic and considerate along the way, I have nothing but respect and high regard for her."
Dr. Mascarenhas oversaw the treatment of the HES and prescribed mepolizumab, a monthly self-administered injection, to help control the production of eosinophils. Sarosh's blood and cardiac treatments were coordinated in close collaboration between Dr. Sahni and Dr. Mascarenhas and their specialist teams.
"I would highly recommend Dr. Mascarenhas. He has been very informative and very in tune with my patient journey. And he has been very collaborative with Dr. Sahni."
Starting treatment at the height of the COVID-19 pandemic was itself an anxiety provoking experience for Sahni. "It was all a scary process, especially with COVID-19 being at its peak and my family and partner being unable to accompany me for my visits," Sarosh says. "Only patients were allowed inside the hospital during that time. The staff were being as careful as possible."
Sarosh saw an almost immediate improvement in his health once he started treatment. "I was mostly taking short walks in the beginning, but now I have gone back to playing basketball and going to the gym." he says. The HES is now under control, and his latest MRIs and echocardiograms have shown that the condition of the heart muscle has strengthened and stabilized.
"Sarosh was diagnosed with an extremely rare heart condition called eosinophilic myocarditis which should ideally be diagnosed and treated promptly by a cardio-oncologist, a heart specialist familiar with blood disorders and cancers that may affect the heart," says Dr. Gagan Sahni. "Despite the challenges of this occurring during the early pandemic chaos of Covid 19 in March 2020, he encountered no delay in his diagnosis, treatment and cardiac follow up. This was possible due to close collaboration between the specialties of Cardio-oncology and Hematology, diligent telemedicine and access to specialized testing all available under one roof at Mount Sinai Hospital. I am so glad to see his heart function improved, his eosinophils normalized and seeing his transition from barely walking a few blocks to playing basketball and leading life as a healthy young man. "
Sarosh says that the care he received at The Mount Sinai Hospital was second to none. "The network of doctors at Mount Sinai, their knowledge and the quality of care is incomparable. And nurses, aides, fellows, and support staff have always been nothing but respectful and supportive. I have great admiration for all of them."