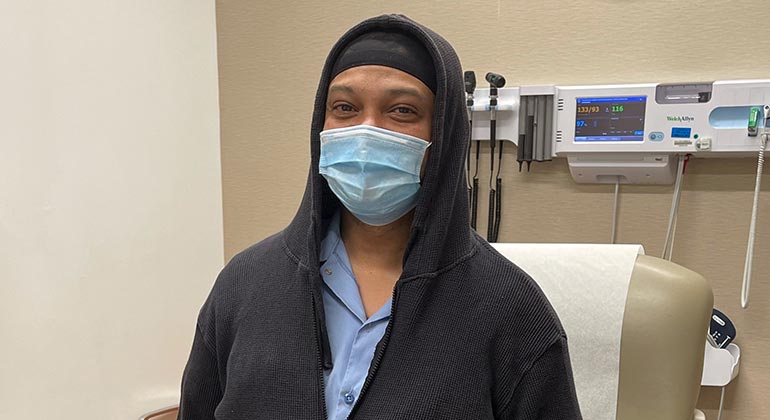 Patient Feels "Blessed" for Safe and Successful Heart Transplant Amid Pandemic
Just before COVID-19 took hold of New York City, Rovin Mahadeo was already in a fight for his life.
Rovin successfully beat testicular cancer in 2013, but the chemotherapy left him with heart failure. He was afraid he wouldn't live to see his 40th birthday. After spending three months in Elmhurst Hospital, he was transferred in January 2020 to The Mount Sinai Hospital, where he was placed on life-saving devices to keep him alive in surgery performed by Anelechi Anyanwu, MD, Surgical Director of Heart Transplantation and Mechanical Circulatory Support.
Rovin needed a heart transplant, and while he awaited a new heart, the pandemic hit New York City hard. Hospitals were overwhelmed, and most elective surgeries were canceled. Heart transplants were one of the few procedures allowed to continue.
In March, Rovin got the news of a lifetime: he would be receiving a new heart.
The doctors at Mount Sinai had an important decision to make. Should they proceed with the surgery as planned or was it too risky? "In the middle of the pandemic, weighing the risks and the benefits of a heart transplant, we really felt a transplant was in his favor, that he would benefit in the long run," says heart failure specialist Sumeet Mitter, MD, Assistant Professor of Medicine (Cardiology), Icahn School of Medicine at Mount Sinai.
The 10-hour surgery was performed by Dr. Anyanwu, Professor and Vice Chair of Cardiovascular Surgery. It was a success, but Rovin's road to recovery was just beginning.
He is on immunosuppressants so his body won't reject his new heart, which made him extremely susceptible to COVID-19. He was transferred to an intensive care unit created for patients without COVID-19.
Rovin also had to recover without the help of loved ones. Through it all, he remained grateful to the nurses and doctors at Mount Sinai who helped him reach his 40th birthday.
"I know I'm blessed," Rovin says.