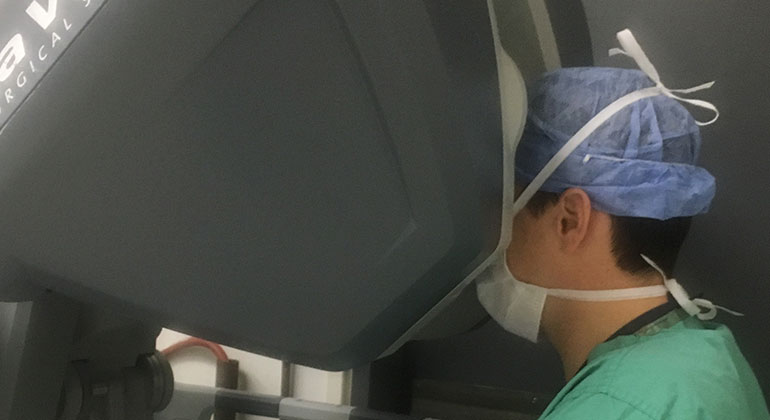 TransOral Robotic Surgery (TORS) Program
Part of Mount Sinai's Center for Minimally Invasive and Robotic Surgery, the multidisciplinary TransOral Robotic Surgery (TORS) Program was established as one of the first of its kind worldwide, and it remains one of only a handful today. An early adopter of the DaVinci Surgical System, the Department of Ear, Nose and Throat/Head and Neck Surgery embraced this state-of-the-art technology for treating tumors in the back of the throat, tonsils or base of the tongue to ultimately improve patients' recovery, cosmetic appearance, and ability to speak and swallow. In the past, these tumors presented a significant challenge to reach, and traditionally were removed by surgeons through a large incision stemming from the lip to the throat. However, the advent of the robotic technology approach, which was approved by the FDA in 2009, brought about a momentous paradigm shift in the removal of these benign and malignant tumors and the benefits it delivers to patients.
Led by Department Chairman, Eric M. Genden, MD, the TORS team at Mount Sinai is comprised of fellowship trained head and neck oncology experts with years of experience employing robotic surgery to early stage through advanced cases. Additionally, the Department houses a unique Head and Neck Cancer Research Program, which encompasses basic/translational and clinical researchers, as well as radiation and medical oncologists, pathologists, neurotologists, laryngologists, and speech and swallowing therapists. This team is investigating new developments and treatments for mouth and throat cancers to seek improvements in clinical management and outcomes for them.
About TransOral Robotic Surgery (TORS)
Prior to the onset of robotic surgery, patients who had a tumor in the mouth or throat typically underwent a 10-12-hour open surgery that required an incision stretching from the lip to the throat so the surgeon could gain access to it. Hospital stays were anywhere from 7-15 days, depending on the patient and the recovery was several weeks. With robotic surgery, the length of the procedure is reduced to 1 1/2 – 2 hours, the hospital stay is about 2 days, and patients are eating and drinking as early as the day after surgery.
With the DaVinci Surgical System, the surgeon can sit at a 'robot' – or console - and guide a thin surgical instrument into the patient's mouth with the assistance of a high definition, 3D camera. Four surgical arms are available to hold a different instrument with one of these equipped with the 3D camera. This approach offers surgeons greater visualization, dexterity and precision during the operation. The surgeon then guides a laser to resect (remove) the tumor and checks all the margins of the tumor to help ensure its complete removal.
Patient Benefits with TORS
In addition to enhancing the surgeon's visibility, mobility, and accuracy during the procedure, transoral robotic surgery offers patients significant benefits, including:
Less post-operative discomfort
Shorter hospital stay (1-2 days, versus 7-15 days with open surgery)
No visible scarring, as there is no external incision
Speedier recovery
Faster return to speaking and swallowing (as early as the day after surgery)
Reduction of possible complications (i.e. swallowing or speech issues)
Reduction of the need for chemotherapy or radiation, particularly for early stage cancers
Cost efficiency (reduction of OR time, necessary staff, utility of materials, and length of hospital stay – all of which translate to cost savings to the hospital and ultimately each patient)
TORS Follow-Up Care at Mount Sinai
Mount Sinai offers every patient various support services such as rehabilitation and speech therapy after tranoral robotic surgery. Additionally, you will be scheduled for several follow-up visits with your surgeon that will involve screening. We do this to monitor patients' progress and to best prevent their cancers from returning.