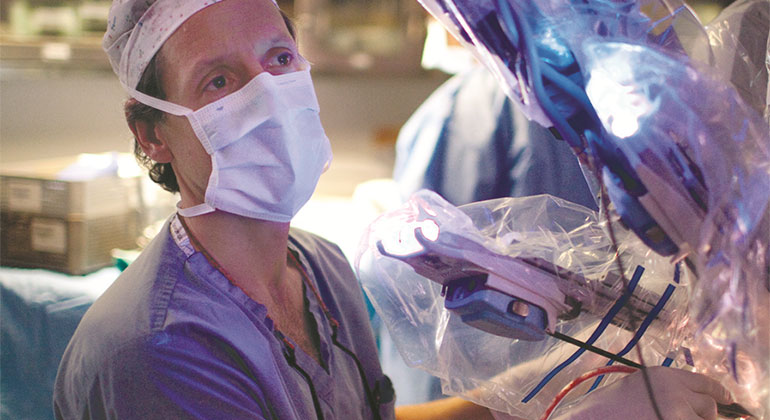 Head and Neck Cancer Treatment
At the Head and Neck Institute and the Center of Excellence for Head and Neck Cancer at Mount Sinai, our goal is to treat each patient's head and neck cancer safely, effectively, and using the least invasive approach. Our highly experienced head and neck surgeons collaborate with medical and radiation oncologists, pathologists, radiologists, nutritionists, and social services to ensure the best possible outcome for every patient, while easing symptoms throughout the process. These experts will personalize your treatment plan, based on individual factors such as the stage of your cancer, your age, and your overall health.
As part of The Tisch Cancer Institute, the Head and Neck Institute gives you access to the latest advances in cancer care. With more than a dozen ongoing clinical trials, our experienced team can offer hope for the most complex head and neck cancer patients, including those who have failed conventional therapies. Researchers at the Head and Neck Cancer Research Program at the Icahn School of Medicine at Mount Sinai have been leading the way in treating cancers caused by the human papillomavirus (HPV)—which account for more than 70 percent of head and neck cancers—for more than 20 years, improving post-treatment quality of life and finding innovative treatments for advanced recurrent disease.
Our team's goal is to improve outcomes for all patients with head and neck cancers. We are using new radiotherapy technology such as proton beams, applying advanced surgical techniques, and prescribing new vaccines and drugs, all in a coordinated approach to optimize outcomes for each individual patient.
Head and neck cancers involve delicate and intricate structures, such as the larynx, throat, and salivary glands. Tumors or diseases in these regions can affect essential functions including breathing, swallowing, and speaking. Our goal is to cure the cancer while preserving function and minimizing side effects. By using a combination of surgery, chemotherapy, radiation, and immunotherapy, our physicians will develop a personalized treatment plan that is best for your situation.
Transoral Robotic or Open Surgery
Mount Sinai performed the first transoral robotic surgery (TORS) for oropharyngeal cancer in New York State more than a decade ago. This marked a great improvement from traditional open surgery, which may require speech and swallow therapy after the procedure.
With TORS, this minimally invasive procedure carefully removes the tumor and any affected lymph nodes through the mouth. This robotic procedure enables surgeons to treat tumors in the back of the throat, tonsils, or base of the tongue with control and precision. Patients recover faster, have better cosmetic outcomes, and are more likely to preserve speech and swallowing functions than with open surgery.
Medical Oncology
Our specialists use various medications to destroy cancer cells throughout the body. Chemotherapy uses powerful drugs that can target tumor cells, but they can also cause harsh side effects. Researchers at Mount Sinai are investigating new drug combinations, immunotherapies, and vaccines that will make patients more comfortable throughout their course of treatment. Mount Sinai's Medical and Radiation Oncology Surveillance Program monitors side effects both during and after treatment and our unique Hydration Program improves outcomes and reduces unnecessary hospitalizations and treatment delays.
Radiation Oncology
Over the past two decades, the use of radiation therapy to treat cancer has risen dramatically. In radiotherapy, focused beams of high-energy X-rays are used to destroy cancer cells while protecting the surrounding healthy tissues and structures. Proton therapy is a cutting-edge form of radiation technology that uses proton beams to precisely target tumors. We are proud to offer our patients access to this very specialized treatment at the newly established New York Proton Center in East Harlem, the first proton therapy facility in New York State.
Immunotherapy
This promising and rapidly expanding area of medicine uses the power of the patient's own immune system to attack the cancer. Immunotherapy changes the way cancer cells are recognized by the patient's immune system or the way their immune system is activated. Often combined with surgery or medical or radiation oncology, immunotherapy is typically used to treat patients with recurrent disease. We are currently investigating how to apply immunotherapy and vaccines earlier in treatment to improve both control of cancer and quality-of-life outcomes. Early studies with vaccines and immunotherapy show great promise.
Genetic Testing for Targeted Therapies
The goal at Mount Sinai is to match every patient with the best possible therapy. Each cancer has a unique genetic profile and contains substances like proteins that are specific to that tumor. These biomarkers are important clues that help identify the most effective types of therapies. Many chemotherapy drugs or immunotherapies are only effective for patients with certain biomarkers.
Mount Sinai has world-leading genetics and pathology departments that specialize in genetic testing and tumor profiling. Genetic testing is used to identify patients who are eligible for targeted therapies being studied in clinical trials. Molecular HPV genotyping can identify the subtype of many HPV-related cancers. These subtypes can be monitored with a genetic biomarker to assess response and identify recurrence of disease. HPV biomarkers may even allow physicians to identify certain cancers before symptoms begin.
Clinical Trials
Patients at Mount Sinai have access to a broad range of clinical trials and are encouraged to enroll in studies when eligible. Researchers are investigating ways to improve the cure rate in head and neck cancers while reducing the side effects of treatment. Clinical trials are particularly important for tumors that have a poor prognosis or have failed conventional therapies.
Areas of active research include:
Exploring new treatment combinations
Targeting therapies for HPV-related cancers
Improving protocols for metastatic cancers
Investigating advanced radiation techniques and combinations of radiotherapy and immunotherapy or chemotherapy
Evaluating drugs that reduce the side effects of chemotherapy
Improving the safety and efficacy of vaccine trials
Developing new treatments for rare nasopharyngeal cancers and sinonasal cancers
Why Choose Mount Sinai for Head and Neck Cancer Treatment?
At the Head and Neck Institute of Mount Sinai, you can be assured of getting the best possible care with access to:
Renowned head and neck surgeons
World-leading medical oncologists
Experienced radiation oncologists specializing in head and neck cancers
Expert pathologists specializing in head and neck cancer and coordinating with the clinical team and with research nurses in the Institute
The largest head and neck robotic surgery program in the nation
Microvascular, reconstructive, and oral and maxillofacial surgeons
Unmatched experience with HPV-related oropharyngeal cancers
Multidisciplinary team approach
A support team who will be with you the entire process
Medical and Radiation Oncology Surveillance Program during and after treatment
Participation in clinical trials, as appropriate
Easy access to care, including participation in most insurance plans
Coordination with multiple research labs across the Mount Sinai Health System and The Tisch Cancer Institute invested in cancer research