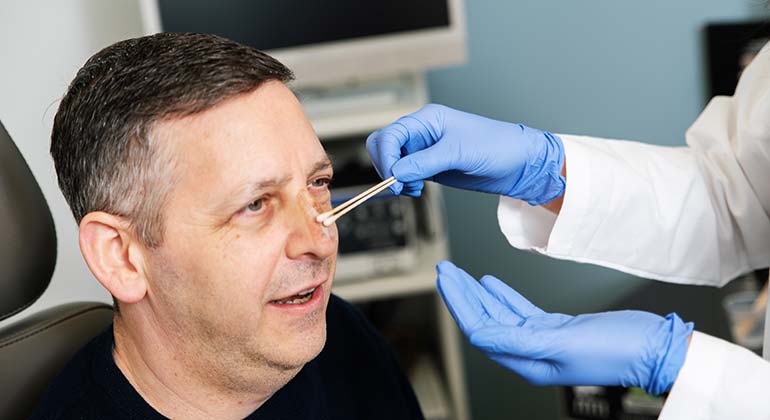 Skin & Cosmetic Assessment after Reconstructive Surgery (SCARS) Program
At Mount Sinai, the Department of Otolaryngology-Head and Neck Surgery takes a multidisciplinary approach for patients undergoing head and neck and reconstructive surgery. After head and neck and reconstructive surgery, many patients have concerns about their scars and facial appearance. Through our Skin & Cosmetic Assessment after Reconstructive Surgery (SCARS) Program, all head and neck and reconstructive surgery patients are offered a consultation with our facial plastic surgeons between three and six months after their initial surgery.
Led by Co-Chief of Facial Plastic and Reconstructive Surgery Dr. Joshua Rosenberg, our highly specialized team of facial plastic surgeons works closely with the Head and Neck Institute to provide a detailed consultation and individualized treatment plan for all patients seeking improvements in their facial appearance and function. We strongly believe that our team approach allows us to provide the best possible cosmetic and functional outcome for each patient.
Scar Formation
Scars form as skin heals after injury or surgery. Facial scars can be unsightly and sometimes disfiguring. Unattractive or disfiguring scars can result from poor wound healing, inherent skin coloration or pigmentation and/or the orientation of scars in comparison to the natural lines and creases of one's face and neck. Keloids represent an extreme form of scarring, where the scar extends beyond the boundaries of the initial wound or surgical incision.
Scar Maturation and Treatment Options
Scars mature over time after an initial injury or surgery. To minimize scars and improve unattractive or disfiguring scars, we offer the following treatments and services:
Topical and steroid treatments: Topical ointments, ranging from simple petroleum-based ointments to silicone gels and sheets are often employed as wounds or incisions mature to minimize scarring. For certain patients, steroid injections are employed over time to help improve scar appearance.
Laser treatments: Laser treatments can be employed to address the size, shape, contour and color of scars. Originally pioneered in the 1960's for medical use, LASERS have become ubiquitous in modern life (that's right, it's not a word, it's an acronym: Light Amplification by Stimulated Emission of Radiation). Medical lasers generally produce their effects through high-energy, focused beams of intense, "single-colored" light. The light, and in some cases the resulting heat, have been found – through ongoing research and extensive clinical experience – to selectively interact, in very useful ways, upon various tissues within the skin and body. This is especially true of scars where we use a variety of lasers to improve the appearance of scars.
Scar revision surgery: In specific cases, scars are surgical excised and repaired using a variety of techniques to address their size, shape and orientation on the face. Depending on a person's specific needs, these procedures can be performed during a simple office visit. In other cases, scar revisions surgery may be part of larger surgical plan and need to be performed in the operating room.
About the Consultation
Our goal is to individualize each consultation and treatment plan. This occurs through an in-depth evaluation, followed by an honest discussion of your goals and what we believe can be reasonably achieved. We offer a wide variety of non-invasive, office based treatments, along with traditional surgical procedures. A discussion of our treatment recommendations will be made during you consultation.
Insurance
As facial plastic surgery encompasses both reconstructive and cosmetic surgery, we do participate in many insurance plans. Please note insurance companies preclude some post-surgical scar treatments. Our office staff will provide you with as much information as possible regarding the scope of any recommended procedures, your insurance coverage and any out-of-pocket expenses involved in your treatment.
Photographs
Photographs are a required part of all cosmetic and reconstructive treatments. They are used to plan treatments and track outcomes. The necessary photographs are taken during the consultation.
Anesthesia
Facial Plastic surgery procedures are performed under local, sedation and general anesthesia. We use a number of facilities including the physicians' office procedure rooms. Prior to any procedure, we will provide you with information regarding the location of your surgery and afford you as much decision making as medically appropriate regarding the type of anesthetic you prefer (i.e conscious sedation vs. general anesthesia).
Post-Surgical Care for Scars
Most facial plastic surgery procedures result in minimal to moderate post-surgical discomfort. Pain medication is prescribed when needed.
Patients undergoing scar revision patients are instructed regarding appropriate home care and precautions to ensure the best possible healing. We follow all of our patients closely to address any concerns as they arise.
Private nursing is available. Our office can help with recommendations and arrangements.