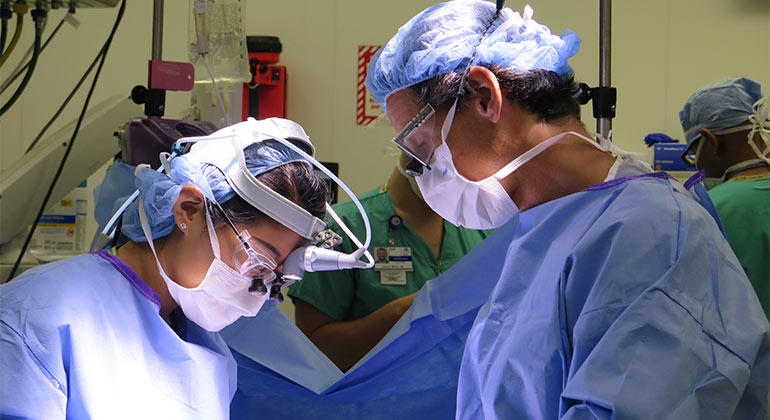 Head and Neck Institute – Center of Excellence for Head and Neck Cancer
The Head and Neck Institute at the Mount Sinai Health System offers you and your loved ones unparalleled expertise in the diagnosis and treatment of all diseases and tumors related to the head and neck. Our surgeons are recognized internationally for pioneering various minimally invasive techniques and achieving the first successful donor trachea transplant.
Department of Otolaryngology-Head and Neck Surgery Chairman Dr. Eric Genden was among the early adopters nationwide and the first in New York to treat oral and throat cancers with transoral robotic surgery (TORS). Today, the Head and Neck Institute houses the largest Robotic Surgery Program for Head and Neck Cancers in the country and treats more head and neck oncology patients than any other hospital or hospital system in New York.
Patients' clinical care is backed by various research activities. Our faculty, scientists and researchers have spearheaded the Sinai Robotic Surgery Trial (SIRS) and launched the MOUTH HPV research study at Mount Sinai in collaboration with Johns Hopkins University. One of the first of its kind, this study aims to provide the first data set delineating the HPV infection natural history and correlation of behavioral risk factors (i.e. smoking) on HPV-associated oral infections.
Our extraordinary head and neck oncology, rhinology, oral and maxillofacial surgery, reconstructive surgery, skull base surgery, sleep surgery and voice and swallowing specialists participate in research activities at the Head and Neck Cancer Research Program - the world's foremost resource for dormant cell research. They continue to develop new, less invasive surgical techniques and clinical technologies.
The Patient First Program offers patients convenient, coordinated care to maximize specialized support and minimize the number of visits to the hospital. Our team works in a multidisciplinary approach with various experts at the Mount Sinai Health System, and provides comprehensive services, such as facial reconstruction, to maximize your outcome, function and quality of life.