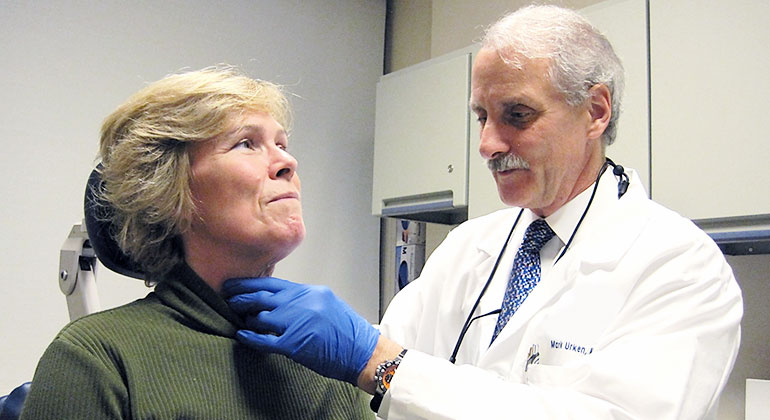 Thyroid and Parathyroid Disease Care at Mount Sinai Doctors Westchester
Mount Sinai's Head and Neck Institute/Center of Excellence for Head and Neck Cancer provides patients living in Northern New Jersey, Westchester county, Long Island, the Hudson Valley, Connecticut and southwest Massachusetts convenient access to unparalleled care at its satellite office in Westchester. Located at 244 Westchester Avenue, this state-of-the-art facility is uniquely dedicated to caring for patients with any type of thyroid disease or stage of thyroid cancer. Patients with parathyroid disorders can also undergo evaluation at this Center.
The Department recognizes the challenges these patients encounter when having to travel to Manhattan for appointments. In addition to offering our patients enhanced comfort and convenience near their homes (including free parking), we provide the highest quality care possible with personalized treatment plans. Dedicated sessions are set aside for patients to see a head and neck surgeon and cytologist together, so we may determine the most effective management approach for their disease without the need for follow-up visits.
Onsite ultrasound evaluation of the neck provides valuable information regarding the initial workup of thyroid nodules, the decision as to whether a nodule requires biopsy, initial treatment planning and staging of the neck, as well as follow up surveillance. The ability to undergo evaluation by a surgeon and to have a biopsy performed (if necessary) at the same office and on the same day enhances the patient care coordination and streamlines their experience. With an accurate diagnosis and the establishment of precise staging, a patient can understand the best next steps before leaving the office.
Multidisciplinary Team and Services Offered in Westchester
Having treated thousands of patients with thyroid diseases and parathyroid conditions, our team of renowned experts is widely recognized for their expertise, vast experience, pioneering work, and research in these conditions. We aim to treat not only the disease, but also each patient as a whole, employing the least invasive treatments possible to best suit their condition and lifestyle.
Physicians located in the Westchester office comprise a multidisciplinary group led by a head and neck surgeon. We offer comprehensive services, encompassing advanced diagnostic evaluation (including Ultrasound), biopsies, surveillance, treatment, and follow-up care. Here, care is streamlined for patients with routine through complex conditions, minimizing their rehabilitation and recovery time, and maximizing their outcomes.
What We Treat in Westchester
The team in Westchester treats all types and stages of thyroid nodules, cancer and other thyroid conditions, as well as salivary disorders and conditions requiring oral surgery. Patients experiencing any of the following receive precision diagnostics, treatment and follow-up care:
Thyroid and Parathyroid Conditions Treated:
Hyperthyroidism – overactive thyroid, which can be caused by Graves' disease, toxic multinodular goiter, or a toxic nodule
Hypothyroidism – underactive thyroid gland, often caused by thyroiditis or thyroid surgery in which all or half of the thyroid was removed
Goiter and Multinodular Goiter (including substernal goiter) – enlargement of the whole thyroid or multiple nodules on the thyroid
Graves' Disease – an autoimmune disorder that is the most common cause of hyperthyroidism
Thyroid cancer – care includes conventional surgical therapy and postoperative radioactive iodine, as well as active surveillance for early stage cancers
Thyroid nodules – growths on the thyroid, which affect up to 75 percent of the U.S. population; fortunately, most are benign
Thyroiditis – inflammation of the thyroid gland, which can lead to an underactive or overactive thyroid gland
Parathyroid cancer
Hyperparathyroidism due to overactivity of a single gland or multiple glands as in parathyroid hyperplasia
Other Head and Neck Conditions/Disorders We Treat:
Benign and malignant tumors of the mouth, throat, larynx, sinus and skin – includes full diagnostic workup and treatment (removal, as well as all forms of reconstruction and restoration through microvascular surgery, and prosthodontics)
Salivary gland disorders and cancers
Osteoradionecrosis (ORN) – a condition resulting from the damaging effects of ionizing radiation therapy
Cleft palate
Facial injuries
Surgical procedures take place at Mount Sinai West in Manhattan, but all other appointments and follow-up visits can occur at the Westchester office.
We welcome questions from our patients and referring physicians and look forward to offering each of them the best possible care in our contemporary facilities.