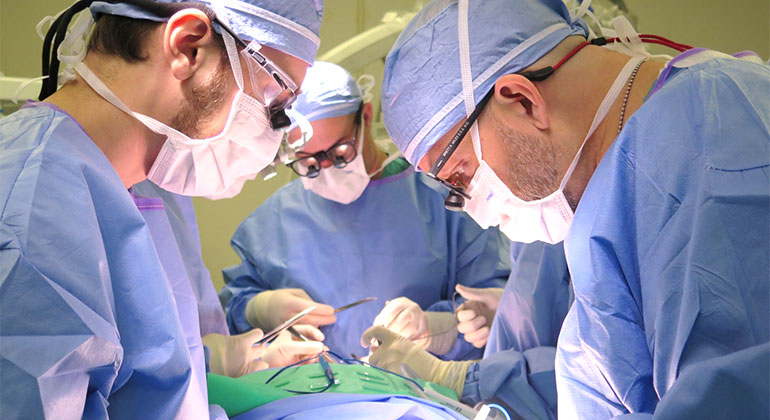 Head and Neck Microvascular and Reconstructive Surgery
Facial defects and deformities can have profound effects on how you eat, speak, socialize, and express yourself, striking at the core of your identity. Following head and neck cancer treatment, facial reconstructive surgery can restore both function (swallowing, chewing, eye closure, facial movement, speech, etc.) and form (scarring, asymmetrical movement, etc.).
Multidisciplinary Approach to Reconstructive Surgery for Head and Neck Cancers
At Mount Sinai, the Department of Otolaryngology-Head and Neck Surgery takes a multidisciplinary approach to facial plastic and reconstructive surgery for patients with scarring and disfiguring effects of head and neck cancers. Our highly specialized and trained facial plastic and microvascular and reconstructive surgeons, oral and maxillofacial surgeons, radiation oncologist, medical oncologist, speech pathologist, radiologist, and pathologist work closely with each patient to provide best possible care and make each patient feel comfortable and informed of their treatment.
As part of our Patient First Program, we ensure each patient is seen by all team members in one setting, offering maximum convenience. This also enables a consensus treatment plan to be determined within a short time span and expedites the process. In addition to carefully crafting the treatment plan, we address any potential problems at the time of patient's visit or plan to address them post-treatment. We encourage patients to come in to their appointments with questions, which we answer in-depth and allay any concerns associated with their care. By tapping the expertise of all team members, we aim to achieve the optimal outcome for each patient with the least invasive approach, so their return home is as fast as possible.
Types of Reconstruction
Microvascular reconstruction/free flap: also known as "free tissue transfer," this special technique entails the skin, muscle, and or bones that are "harvested" from throughout the body and implanted under a microscope to correct the defect in the face, head, and neck.
Dental implants: this restoration of teeth technique starts with a metal screw that acts as a tooth anchor; a crown is then fitted over the implant.
Custom prosthetics: these are used to reconstruct parts of the head and neck that were sacrificed due to cancer treatment. Custom prosthesis can be used to reconstruct a missing ear or nose, or even bones of the mandible. Individually tailored prostheses require special custom imaging used for both 3-D printing and creating molds for the best fit.
Scar revision: through our SCARS Program, patients are offered a consultation with our facial plastic surgeons between three and six months after their initial surgery. For those seeking improvements in their appearance and function, a personalized treatment plan is crafted. Treatments may include topical ointments, laser treatment and scar revision surgery.
Reconstructive Treatment and Recovery
The reconstructive treatment plan can span from days to months or possibly a year. For instance, with the removal of the thyroid gland, a meticulous wound closure takes place at the time of the operation; however, postoperative scare care after surgery and a normal healing period can occur three to six months afterward, offering a beautiful cosmetic result. For complex cases involving extensive removal of large tumors, reconstructive surgery is performed at the time of cancer removal, followed by a short hospital stay.
Referring Physicians Communications
A critical component of our work is communication, which continues to play a significant role in patients' care. Physician and patient accessibility are paramount to a great experience and outcome. The same accessibility we offer patients is offered to referring physicians. We customize treatment plans and communications (including Par8o, Skype, texts, and phone calls) to tailor the needs of each and every referring physician.
Microvascular and Reconstructive Surgery Follow-up Care
Follow-up care for microvascular and reconstructive surgery is dictated by the extent of each patient's surgery. Follow-up appointments take place within the first few weeks post-surgery and then occur over longer intervals between appointments. However, we ensure that we're available as often as patients need to see us and pride ourselves on our accessibility.