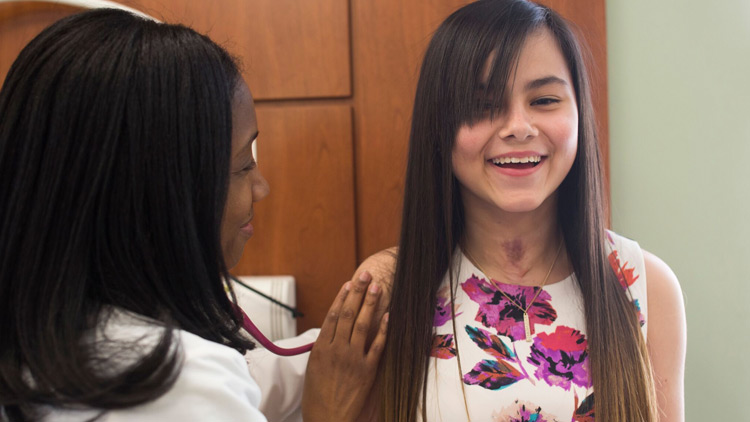 Same-Day Appointments
The Mount Sinai Health System now provides in-person, same-day appointments throughout all five boroughs of New York City. We offer appointments to meet your health care needs with a wide range of services and treatments. Depending on the need and time of day you call, we'll schedule an appointment for you that day (excluding holidays and weekends).
Call 844-463-2778 today for an immediate concern, second opinion, or any other health issue.
During the pandemic, our doctors, nurses, and staff members are working diligently to ensure the health and safety of each patient who depends on us for care. Throughout our health system, we're protecting our patients with rigorous protocols.
We Also Offer Virtual Care Options
You can also connect with a Mount Sinai doctor by phone, tablet, or computer. Your visit can be by video, online consultation, or text. You'll be able to discuss symptoms and handle next steps, including any needed prescriptions. If you need help deciding which type of visit is best for you, text us at 474-624 (4-SINAI).
Mount Sinai NOW offers video visits for common-place illnesses such as cold and flu symptoms, stomach virus, respiratory infections, and other everyday ailments. Many specialty practices offer video visits as well. Find out more.
Click4Care is a flexible online option for consultation for common health conditions like a cold, rash, or urinary tract infection. Just fill out an interactive online questionnaire, and a Mount Sinai physician will review the responses and get back to you within an hour with a treatment plan, including a prescription if needed. Find out more.
How Same-Day Appointments Work
When you call 844-463-2778, a registered nurse ask you a number of questions about your health condition to match the best doctor for your needs. If you call before 2 pm, we'll offer you an appointment that day. For calls after 2 pm, we'll offer an appointment for the next day.
What to Expect:
When you call, please have basic identifying information, such as your address, phone number, and insurance carrier, on hand
A registered nurse will ask questions about your symptoms to determine the appropriate physician to see you. In most cases, we'll be able to schedule the appointment with this information.
For complex or chronic medical conditions, additional information may be required before an appointment is scheduled. This information is critical to ensuring the right specialist to see you.
Same-Day Appointment Considerations
If you already have a Mount Sinai doctor for your condition, we will connect you with that person's office to schedule the appointment to ensure seamless coordination of care with your provider.
Our priority is to ensure patients with urgent needs are seen by a physician as soon as possible; if your concern is considered immediate, you will be directed to an Emergency Department.
We will do our best to accommodate all requests, but your appointment may be scheduled further out if you need a routine physical/check-up or specialized care.
We will work with you, as applicable, to match your insurance plan to the best of our abilities.
Same-Day Appointment Specialties
Mount Sinai offers services in 32 specialties.
Allergy
Cardiology
Dentistry
Dermatology
Endocrinology
Gastroenterology
General Surgery
Hematology
Infectious Disease
Nephrology
Neurology
Neurosurgery
OB/GYN
Occupational Health
Oncology
Ophthalmology
Oral Maxillofacial Surgery
Orthopedics
Pain Management
Pediatrics
Podiatry
Primary Care
Psychiatry
Pulmonary
Radiology
Rehabilitation/Physical Therapy
Reproductive Endocrinology and Infertility
Rheumatology
Surgery
Urgent Care
Urology