Oral Cancer Patient Brian Lowery Hits a Homerun with Team Mount Sinai
Dry throat, coughing and difficulty swallowing were my persisting symptoms. Test and examinations by my Ear, Nose and Throat (ENT) doctor all produced negative results. A CT scan was taken and my doctor called me on a Saturday night – never a good sign. He said, "You're going to Mount Sinai. Someone will contact you shortly." I argued that surely I could receive quality medical attention for this locally on Long Island, but was met with "It's Mount Sinai – end of discussion!"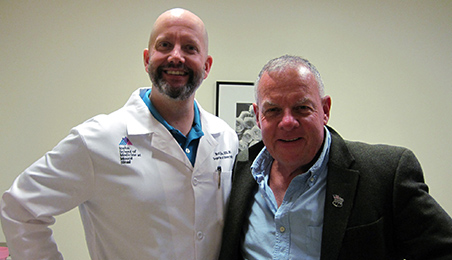 Mount Sinai did call and I realized that I was being fast tracked in the Patient First Program. First a consult with Dr. Brett Miles, Co-chief of the Division of Head and Neck Oncology at the Mount Sinai Health System, then a biopsy, followed by a second consult. Things moved quickly. While in the recovery room after the biopsy, Dr. Miles delivered the verdict. Still woozy from the anesthesia, I only caught stray words and disjointed phrases: cancer, HPV, size of walnut, base of tongue, surgery ASAP. These sobering words brought me along a little quicker.
"Here's the plan," Dr. Miles continued. Now there is a thin line between arrogance and confidence and one has to appreciate the difference. This was confidence speaking. Dr. Miles delivered the game plan, robotic surgery, minimally invasive benefits, high percentage of success and the possibility of follow-up radiation. "You're welcome to a second opinion," he said, "but in the meantime, come meet the team: Dr. Vishal Gupta, Radiation Oncology, Dr. Marshall Posner, Hematology and Medical Oncology and his clinical assistant in ENT/Otolaryngology.
More Research Solidified Brian's Decision to Choose Mount Sinai
I found myself buried in the internet, researching my illness, while equally investigating the doctors that were on "my team." The more research I did, the more confident I felt. When I had questions and concerns, I emailed the doctors and received prompt answers and explanations. Realization set in – Mount Sinai was the place to be if I was to get better. On a cold day in December, I was admitted to the operating room. Make no mistake about it - in the OR that day was Seal Team Six, clothed as doctors, nurses and attendants. Each was heavily gowned, wearing a mask, and shouting out commands and buzz words, while prepping the operating theater and initializing the procedure. I don't rightfully remember how many times my wrist bracelet was checked in those moments or how many times I was asked my date of birth or other pedigree information. I do know that at my last moment of consciousness, when all went quiet, a bare hand reached under the sheets and grabbed my hand, a voice whispered in my ear, "Ground ball! You'll be alright! We got you!" If there ever was a team you would want in a foxhole with you it is this group, trust me.
Attentive Post-Surgical Care Team and Accommodations
The post-surgery follow up was no different. I could not have asked for a more attentive group. I just knew that the care that I was given was personalized. When I opted for radiation treatments to further ensure a positive outcome, I became concerned about my ability to make the two and a half hour railroad commute from eastern Long Island to Mount Sinai. Dr. Gupta, contacted Hope Lodge, and arranged for my stay during the duration of my radiation treatments. The Hope Lodge relies strictly on charitable donations and my stay was absolutely free.
To the team at Mount Sinai, it was all in a day's work, a "ground ball!" Now, 26 months post op, I am alright, and "they got me," as I am cancer free.