Breast lump removal
Lumpectomy; Wide local excision; Breast conservation surgery; Breast-sparing surgery; Partial mastectomy; Segmental resection; Tylectomy
Breast lump removal is surgery to remove a lump that may be a breast cancer. Tissue around the lump is also removed. This surgery is called an excisional breast biopsy, or lumpectomy.
When a noncancerous tumor such as a fibroadenoma of the breast is removed, this is also called an excisional breast biopsy, or a lumpectomy.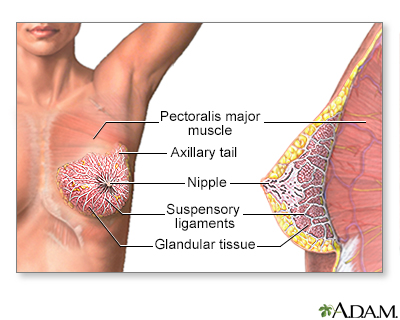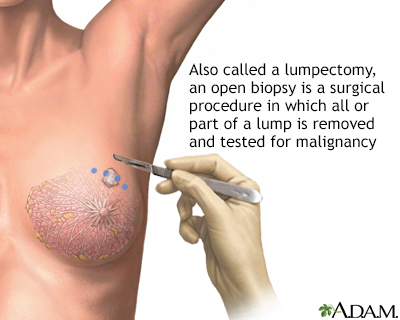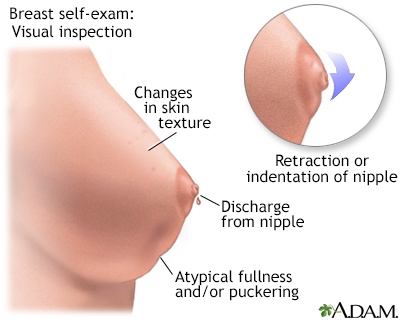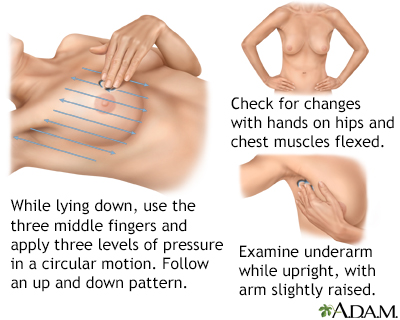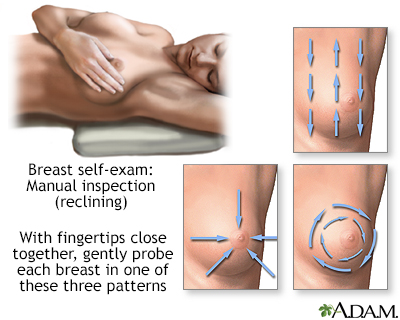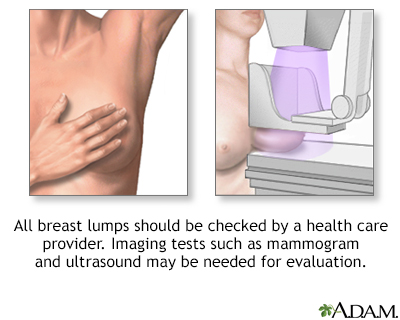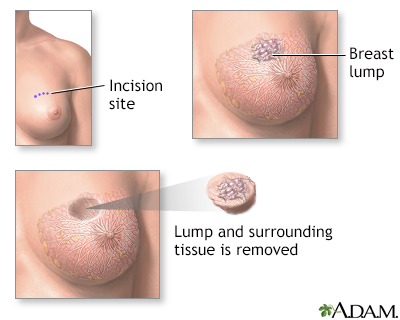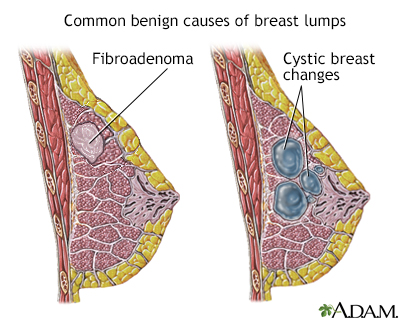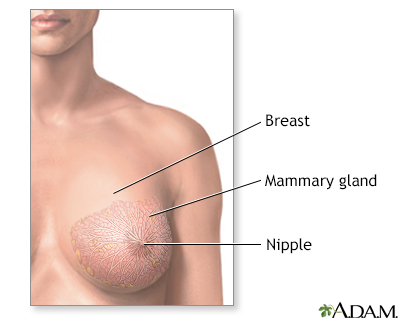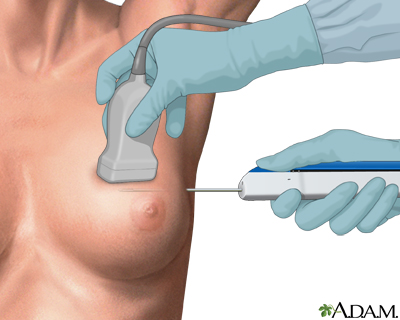 Description
Sometimes, the health care provider cannot feel the lump when examining you. However, it can be seen on imaging results, such as a mammogram or ultrasound. In this case, a wire localization will be done before the surgery.
A radiologist will use a mammogram or ultrasound to place a needlewire (or needlewires) in or near the abnormal breast area.
This will help the surgeon know where the cancer is so that it can be removed.
Breast lump removal is done as an outpatient surgery most of the time. You will be given general anesthesia (you will be asleep, but pain free) or local anesthesia (you are lightly sedated and pain free). The procedure takes about 1 hour.
The surgeon makes a small cut on your breast. The lump and some of the normal breast tissue around it is removed. A pathologist examines a sample of the removed tissue to make sure all the cancer has been taken out.
When no cancer cells are found near the edges of the removed tissue, it is called a clear margin.
Your surgeon may also remove some or all of the lymph nodes in your armpit to see if the cancer has spread to them. 
Often, small metal clips will be placed inside the breast to mark the area of tissue removal, especially if there is a concern for cancer. This makes the area easy to see on future mammograms. It also helps guide radiation therapy, when needed.
The surgeon will close your skin with stitches or staples. These may dissolve or need to be removed later. Rarely, a drain tube may be placed to remove extra fluid. Your doctor will send the lump to the pathologist for more testing.
Why the Procedure Is Performed
Surgery to remove a breast cancer is most often the first step in treatment.
The choice of which surgery is best for you can be difficult. It may be hard to know whether lumpectomy or mastectomy (removal of the entire breast) is best. You and the providers who are treating your breast cancer will decide together. In general:
Lumpectomy is often preferred for smaller breast lumps. This is because it is a smaller procedure and it has about the same chance of curing breast cancer as a mastectomy. It is a good option as you get to keep most of your breast tissue that has not been affected by cancer.
Mastectomy to remove all breast tissue may be done if the area of cancer is too large or there are multiple tumors which cannot be removed without deforming the breast.
You and your provider should consider:
The size of your tumor
Where it is in your breast
If there is more than one tumor
How much of the breast is affected
The size of your breasts in relation to the tumor
Your age
Your family history
Your general health, including whether you have reached menopause
If you are pregnant
If you are not a candidate for supporting treatment such as radiation
Of all the different types of cancers, breast cancer is one of the most talked about, and with good reason. One out of every eight women will develop breast cancer sometime in their life. That's why every woman should be thinking about how to protect herself from this disease. Breast cancer is cancer that forms in the breast. Usually, it begins in the tubes that transport milk from the breast to the nipple. If the cancer spreads to other parts of the breast or body, it's called invasive breast cancer. Some breast cancers are more aggressive, growing more quickly than others. Although women are 100 times more likely to develop breast cancer, men can also get the disease because they do have breast tissue. You're more likely to get breast cancer if you're over 50, you started your periods before age 12, or you have a close family member with the disease. Drinking more than a couple of glasses of alcohol a day and using hormone replacement therapy for several years also may increase your risk. The telltale sign of breast cancer is a lump in your breast or armpit. You may also notice a change in the shape, size, or texture of your breast, or have fluid coming from your nipple when you're not breastfeeding. If you notice any changes in your breasts, call your doctor. You'll probably need to have an imaging scan, such as a mammogram, MRI, or ultrasound. A piece of tissue may be removed from your breast, called a biopsy. With these tests, your doctor can tell whether you have breast cancer, and if so, determine whether or not it has spread. So, how do we treat breast cancer? That really depends on the type of cancer, and how quickly it's spreading. Your doctor may recommend that you have the cancer removed with surgery. Sometimes it's enough just to remove the lump. That's called a lumpectomy. In other cases, the doctor will need to remove the entire breast to get rid of all the cancer or prevent it from coming back. That's called a mastectomy. Other treatments for breast cancer include chemotherapy, medicines that kill cancer cells, and radiation therapy, which uses energy to destroy cancer. Women whose cancer is fueled by the hormone estrogen may receive hormone therapy to block the effects of estrogen on their cancer. Today's breast cancer treatments are better than ever. Many women who have breast cancer go on to live long, healthy lives. The outlook really depends on how fast the tumor is growing, and how far it has spread. That's why it's so important to report any changes in your breasts to your doctor as soon as you notice them. Women who are at an especially high risk for breast cancer because of their family history can talk to their doctor about taking medicine or even having surgery to reduce their risk.
Risks
Risks for surgery are:
Infection
Poor wound healing
Heart attack, stroke, death
Reactions to medicines
Risks associated with general anesthesia
The appearance of your breast may change after surgery. You may notice dimpling, a scar, or a difference in shape between your breasts. Also, areas of the breast may be numb, such as near the scar, or the nipple.
You may need another procedure to remove more breast tissue if tests show the cancer is too close to the edge of the tissue already removed.
Before the Procedure
Always tell your provider:
If you could be pregnant
What drugs you are taking, even drugs or herbs you bought without a prescription
Any allergies you may have, including medicines, foods and latex or rubber
Reactions to anesthesia in the past
During the days before your surgery:
You may be asked to stop taking aspirin, ibuprofen (Advil, Motrin), naproxen (Aleve, Naprosyn), clopidogrel (Plavix), warfarin (Coumadin), and any other drugs that make it hard for your blood to clot. Be sure to ask your provider which medicines should be stopped, and for how long before your procedure.
Ask your provider which drugs you should still take on the day of your surgery.
If you smoke, try to stop for at least 2 weeks prior to the surgery. Your provider can help.
On the day of surgery:
Follow your provider's instructions about eating or drinking before surgery.
Take the drugs your provider told you to take with a small sip of water.
Your provider will tell you when to arrive for the procedure.
After the Procedure
The recovery period is very short for a simple lumpectomy. Many women have little pain, but if you do feel pain, you can take pain medicine, such as acetaminophen.
Your skin should heal in about a month. You will need to take care of the surgical cut area. Change dressings as your provider tells you to. Watch for signs of infection when you get home (such as redness, swelling, or drainage from the incision). Wear a comfortable bra that provides good support, such as a sports bra. You may need to put some gauze over the incision so that the bra does not irritate it.
You may need to empty a fluid drain a few times a day for 1 to 2 weeks. You may be asked to measure and record the amount of fluid drained. Your provider will remove the drain later.
Most women can go back to their usual activities in a week or so. Avoid heavy lifting, jogging, or activities that cause pain in the surgical area for 1 to 2 weeks. Check with your doctor prior to driving, or going back to work.
Outlook (Prognosis)
The outcome of a lumpectomy for breast cancer depends mostly on the size of the cancer, as well as the make up of the tumor. It also depends on its spread to lymph nodes underneath your arm.
A lumpectomy for breast cancer is most often followed by radiation therapy and other treatments such as chemotherapy, hormonal therapy, or both.
In most cases, you do not need a breast reconstruction after lumpectomy.
American Cancer Society website. Breast-conserving surgery (lumpectomy). www.cancer.org/cancer/breast-cancer/treatment/surgery-for-breast-cancer/breast-conserving-surgery-lumpectomy. Updated October 27, 2021. Accessed December 28, 2022.
American Society of Breast Surgeons. Performance and practice guidelines for breast-conserving surgery/partial mastectomy. www.breastsurgeons.org/docs/statements/Performance-and-Practice-Guidelines-for-Breast-Conserving-Surgery-Partial-Mastectomy.pdf. Updated February 22, 2015. Accessed December 28, 2022. 
Gladden AAH, Finlayson CA. Early breast cancer. In: McIntyre RC, Schulick RD, eds. Surgical Decision Making. 6th ed. Philadelphia, PA: Elsevier; 2020:chap 101.
Henry NL, Shah PD, Haider I, Freer PE, Jagsi R, Sabel MS. Cancer of the breast. In: Niederhuber JE, Armitage JO, Kastan MB, Doroshow JH, Tepper JE, eds. Abeloff's Clinical Oncology. 6th ed. Philadelphia, PA: Elsevier; 2020:chap 88.
Klimberg VS, Hunt KK. Diseases of the breast. In: Townsend CM Jr, Beauchamp RD, Evers BM, Mattox KL, eds. Sabiston Textbook of Surgery. 21st ed. St Louis, MO: Elsevier; 2022:chap 35.
Version Info
Last reviewed on: 10/10/2022
Reviewed by: Jonas DeMuro, MD, Diplomate of the American Board of Surgery with added Qualifications in Surgical Critical Care, Assistant Professor of Surgery, Renaissance School of Medicine, Stony Brook, NY. Review provided by VeriMed Healthcare Network. Also reviewed by David C. Dugdale, MD, Medical Director, Brenda Conaway, Editorial Director, and the A.D.A.M. Editorial team.