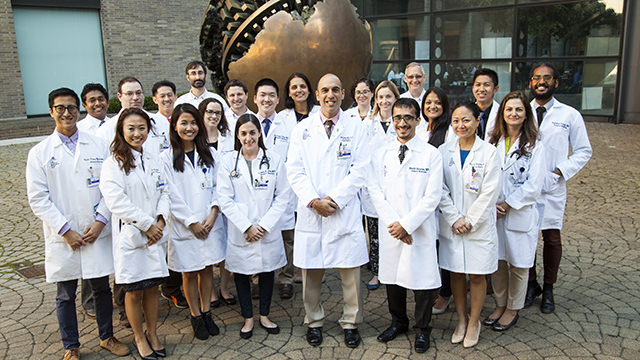 Mount Sinai's Division of Hospital Medicine (DHM) is dedicated to providing the highest quality inpatient care. We perform high quality research in clinical care, education, and health care delivery models. Mount Sinai leads the way in innovative patient safety, medical education for students and Medicine house staff.
The Division of Hospital Medicine is available across the entire Mount Sinai Health System. We have outstanding programs at each Mount Sinai location, including The Mount Sinai Hospital, Mount Sinai Beth Israel, Mount Sinai West, Mount Sinai St. Luke's and Mount Sinai Queens. We are dedicated to outstanding patient care, education and scholarship as well as providing the highest quality and high-value care to our inpatients.
Our staff provides exceptional service and are experts in providing inpatient care across a wide range of disorders and in the coordination of that inpatient care. We also play a central role in the clinical, education and scholarly mission of the Department of Medicine. Our physicians are top clinicians and academic hospitalists focused on advancing the care of patients at Mount Sinai.
The Division of Hospital Medicine is committed to a culture of development. Through promoting our attending to excel in the areas they feel most passionate, our group can achieve excellence in all facets of Hospital Medicine. Our belief in development and support is the core value of the DHM Vision Statement:
To provide a culture of development and support to allow members to deliver outstanding patient care; achieve career fulfillment; and become local and national leaders in medical education, development of innovative programs that enhance quality & safety, and research.
Our clinical programs and services:
Teaching Service
The members of the DHM faculty are the primary clinical and teaching attending's for the housestaff on the general medicine wards. Teams consist of 2nd and 3rd year residents, interns, 3rd year students, and subinterns. Daily rounds occur at the bedside each morning. Multidisciplinary rounds take place daily at 10am and teams meet throughout the day as needed to discuss patient care and for educational sessions.
Attending Directed Service - ADS (Non-Teaching Service)
Hospitalist attendings work with Nurse Practitioners (NPs) and Physician Assistants (PAs) to provide care for patients not covered by house staff.
Medical Consult Service
Each attending works with a PGY3 resident to provide medical consultation and pre-op evaluations for patients on non-medical services, including Surgery, Rehab, and Psychiatry. Residents receive a curriculum in core topics in Medical Consultation, including concise lectures and a key reading list to ensure they acquire the necessary knowledge and skills.
Co-Management Programs
DHM directs Co-Management programs with the Vascular, Surgical-Oncology, and ENT Services. These programs partners hospitalist attending's with surgical attendings to ensure all medical comorbidities are managed optimally and in a timely manner. Co-Management replaces standard consultation by providing automatic attending input for each patient admitted to the surgical service. The program aims to reduce the rate of post-operative complications and improve the efficiency of care.
Pre-Op Center - Outpatient
DHM hospitalists run the outpatient Pre-Op Center. This busy clinic evaluates patients who have upcoming surgery at Mount Sinai and at other local centers. The hospitalist attending supervises Medicine and Anesthesia residents. A formal curriculum teaches the essentials of pre-operative management.
Observation Unit
Hospitalist direct care for patients admitted for observation services. Hospitalists work with PAs to ensure patients receive prompt and effective care, and are rapidly transitioned home or admitted when needed.