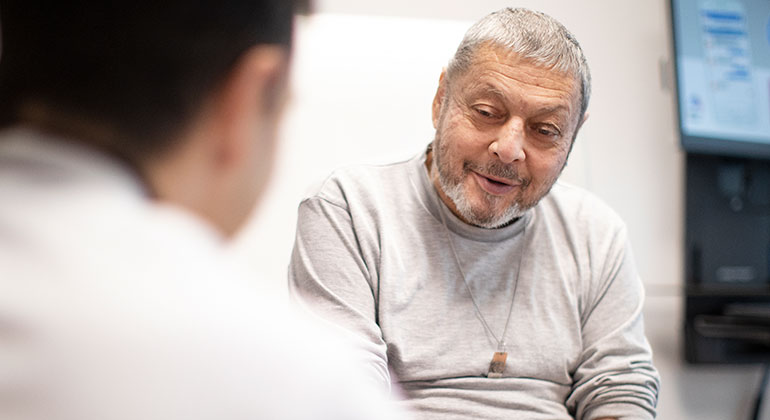 When you are dealing with a cancer diagnosis, you want local access to a world-class team. Mount Sinai Doctors-Long Island has a wide range of highly skilled cancer specialists. We use the most advanced and effective approaches available. We bring the superb care of the Mount Sinai Health System to Long Island. Our team includes experts in medical oncology, radiation oncology, infusion services, and radiology imaging. Our interdisciplinary team works together to coordinate your care.
Our Cancer Services
We pride ourselves on establishing a relationship with our patients. We take the time to listen to you, fully explain your condition, and address your questions. We discuss all treatment possibilities. Our team approach includes:
Medical oncology: These cancer specialists usually take the lead on your treatment plan. We offer chemotherapy, immunotherapy, and more. Our doctors are associated with New York Cancer and Blood Specialists.

Radiation oncology: These doctors specialize in using radiation to treat cancer. They provide high-quality care for breast, prostate, brain, lung, head and neck, and gynecologic cancers. Our radiation oncologists are part of Advanced Radiation Centers of New York. We use the newest technologies, including RapidArc Radiotherapy and Intensity Modulated Radiation Therapy (IMRT). IMRT focuses high-dose radiation on a precise target. It means minimal damage to healthy tissue and fewer side effects.
Infusion services: Our services include chemotherapy and other infusions. Our providers are part of New York Cancer and Blood Specialists. We use the latest treatment protocols. Our team is committed to giving you personalized attention.

Positron emission tomography/computed tomography (PET/CT): This test uses tiny amounts of a radioactive substance called a radiotracer. It lets us observe your organs and tissues. We can also see how they are functioning.
Breast imaging: We use a wide range of breast imaging services to help determine the best treatment plan for you. Our services range from high-resolution breast ultrasound to 3D mammography.

Breast surgery: Our office includes an onsite breast surgeon who has experience performing a wide range of procedures. These include breast-conserving surgery and mastectomy.