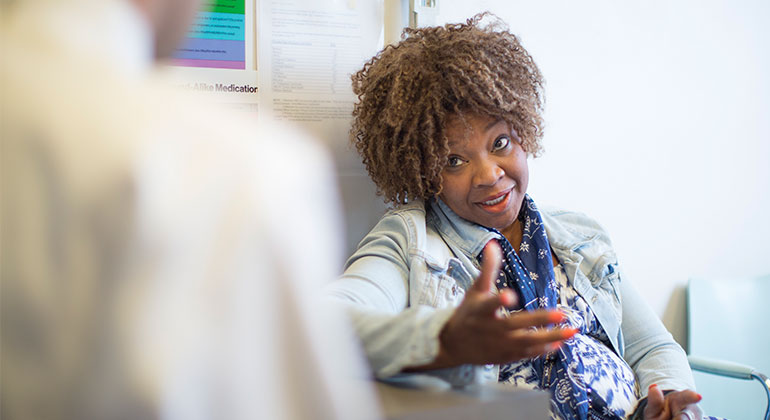 People suffering from hormone-related disorders, diabetes, and thyroid conditions can receive top-notch care at Mount Sinai Doctors-Long Island. We also have a certified diabetic educator.

We bring the experience and skill of Mount Sinai Health System's endocrinology medicine to Long Island. Our patients receive expert, compassionate care close to home.
Our Endocrinology Services
Our specialists provide care in these areas:
Adrenal disease
Diabetes
Obesity
Polycystic ovary syndrome (PCOS)
Thyroid nodules and thyroid cancer
Weight management
Our endocrinologists work closely with other specialists and your referring physician to develop your treatment plan.

If you require more complex care, you also have access to the Mount Sinai Health System. This includes specialized resources such as the Diabetes Center, Center for Thyroid and Parathyroid Diseases, and the Weight and Metabolism Management Program. Our experts have experience with complex procedures such as thyroidectomy and parathyroidectomy.
Diabetes Management
Diabetes can affect your health in many ways. If you have diabetes, you need access to specialists who can address all aspects of your care.

Our specialists work closely with you to ensure long-term care. We consider age, lifestyle, overall level of health, and the presence of other chronic conditions in creating your management plan.

Our endocrinologists use the latest diagnostic tools and treatments. Many of them have either been developed by or were first introduced by Mount Sinai endocrinologists.

We offer diagnostic and treatment services, including:
Blood tests performed and analyzed onsite
Continuous glucose monitoring
Diabetes self-management education
In-office hemoglobin A1c testing
Insulin pump therapy
Nutrition counseling
State-of-the-art bone densitometry
Through a combination of convenient location and clinical skill, we provide each patient with the individualized care needed to enjoy the greatest possible quality of life.