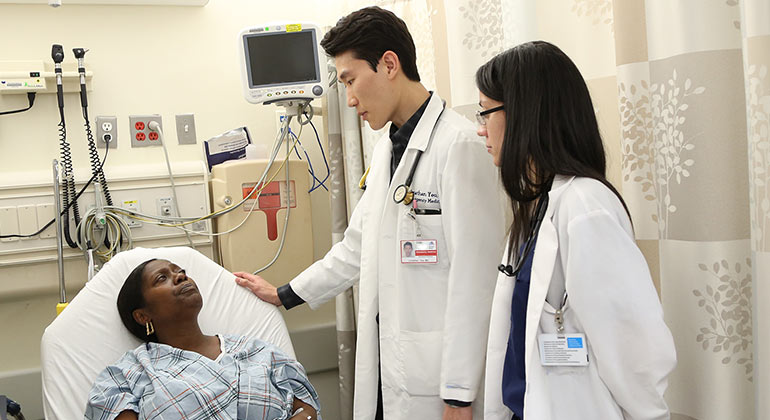 Emergency Medicine Services
Mount Sinai Hospital provides around-the-clock pediatric, adult and geriatric emergency care. Fully equipped with the most advanced technologies available, our physicians, nurses and support staff are poised for rapid response at all levels of emergency management—from assessments through trauma, acute and critical care.
Laboratory Services are located on site. In addition to providing referrals for follow-ups, we can make urgent care available for individuals with non-emergency conditions.
Emergency Services at Mount Sinai
Across every area of service to our patients, Mount Sinai Hospital demonstrates its commitment to delivering high quality care; and this commitment holds true for the Department of Emergency Medicine.
Emergency Services integrate across a seven-site consortium of hospitals in the New York-metro area. Consortium hospitals include: Mount Sinai in Manhattan, Elmhurst Hospital Center, The Mount Sinai Hospital of Queens, Jersey City Medical Center, Queens Hospital Center, North General Hospital and St. John's Episcopal Medical Center.
Our consortium treats nearly half a million patients every year and includes specialized emergency management for geriatric patients—the Geriatric Emergency Department—the first of its kind in New York City.
Services we provide:
EMS Prehospital Care
Mount Sinai EMS participates in the development of city-wide protocols to manage chest pain, stroke and cardiac arrest. We also participate in ongoing research in the area of ultrasound and its use in evaluating trauma patients for early recognition of injury. As a member of the FDNY voluntary hospital 9-1-1 system, Mount Sinai EMS responds to nearly 10,000 calls a year with its advanced life support and two basic life support units.
Emergency Airway Management
Airway management is a cornerstone of emergency care, and the expertise of our emergency physicians—all skilled in the management of airway emergencies—that makes the difference when seconds count. Our approach begins with triage to our emergency resuscitation bay, where specially-trained nurses monitor patients in a critical care environment. In addition, we employ advanced airway equipment and techniques such as continuous end-tidal capnography, the Laryngeal Mask Airway, bi-level positive airway pressure ventilation, and the Glidescope.
Emergency Management
Emergency Management program is dedicated to providing a critical response to disasters that may occur in the hospital or the community.
The program is responsible for overseeing planning, mitigation, response and recovery from incidents to ensure that the hospital is available to continue its mission to provide medical care to the community.
The emphasis of the program is includes preparing and training hospital employees in their response roles, teaching employees how to prepare there homes and families to be disaster ready and working closely with city agencies to ensure that the community us aware of resources and training that may help in the event of a possible future incident.
Mount Sinai Emergency Management participates in the Greater New York Hospital Coordinating Council for Emergency Preparedness and works with the New York City DOHMH and New York State DOH The program continues to develop partnerships and seeks grant funding to enhance the readiness and training of Mount Sinai Hospital.
Emergency Ultrasound
In the Mount Sinai Emergency Department, bedside ultrasound is used for rapid patient assessment, and to provide visualization for bedside procedures. Common uses for ultrasound include assessment for pericardial effusion, gallstones, evaluation for ectopic pregnancy, or abdominal fluid.
Pediatric Emergency Services
If your child has an emergency and needs immediate care, our staff at the Children's Emergency Department at Mount Sinai Kravis Children's Hospital is ready to care for your child 24 hours a day, seven days a week. Our Children's Emergency Department, conveniently located on the first floor at The Mount Sinai Hospital main campus at 1468 Madison Avenue at the corner of Madison Avenue and 101st Street, is dedicated to the care of all infants and children.