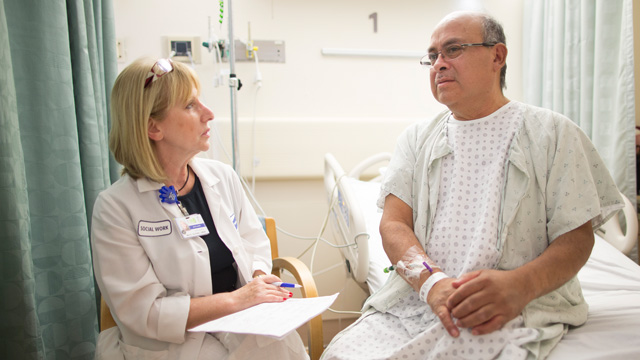 Navigating health care can be tricky. Mount Sinai Brooklyn's skilled social workers are here to help you. We work with all high-risk inpatients and anyone else admitted to the hospital who requests our services. We provide emotional support for you and your family. Our team works with you to make sure you receive services that best fit your needs, and to make sure that you receive the maximum allowable benefits.
Social workers collaborate closely with your doctor, case manager, and nurses. We provide a range of services including:
Assess you and your support system for several purposes:

To identify potential needs while you are in hospital
To determine appropriate level of care for discharge-planning purposes
To identify necessary interventions
Work with insurance and community care provider
Initiate referrals to appropriate community resources
Provide supportive counseling for you and your family.
Help you plan for the care you may need when you leave the hospital.
Make sure you are discharged within the appropriate time frame and safely to your destination.
Transition of Care
Our social workers specialize in discharge planning and geriatric-focused care. Our goal is to make sure you have what you need, including any appropriate medical equipment and support services, to take care of yourself when you leave the hospital. We can make referrals to:
Acute inpatient rehabilitation
Assisted living
Home care
Hospice care
Skilled nursing facilities
The caring team of social workers at Mount Sinai Brooklyn is ready to help you get the companionate care you deserve.