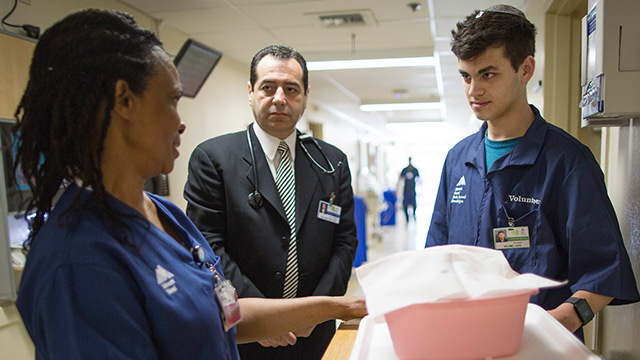 COVID-19 Caveat
We look forward to resuming our pre-COVID volunteer operations soon. We will provide updated information on this page, so please check in periodically. All volunteers must be fully vaccinated against COVID-19 and the seasonal flu, have a current PPD test, and pass a drug-screening test if you are planning to volunteer for more than 30 days.
If want to use your time, effort, and energy to make a difference in people's lives, volunteering at Mount Sinai Brooklyn might be a good fit. Our volunteers play a key role in creating a compassionate healing environment for our patients, their families and other visitors, and our staff. We welcome high schoolers above 15 years of age, retirees—and everyone in between. Volunteers help in both inpatient and outpatient settings.
As a volunteer at Mount Sinai Brooklyn, you also gain valuable health care and career experience. Perhaps most important, you know you are providing essential support to people who really need it. Our volunteers tell us they find the experience very rewarding.
We pride ourselves in our ability to recruit volunteers who have a high level of customer service and commitment to Mount Sinai Brooklyn. We look for people who want to make a difference in our community.
Types of Opportunities
Our volunteers help in a variety of ways. All are very important to keep our hospital running smoothly and provide support to our patients. You can help in a number of clinical or special care units, including:
Emergency Department
Inpatient nursing units
Nursing units
Office support
Surgical inpatient unit
You can also focus on specific types of care, including:
Cancer care and support
Care for the elderly
Staff support
Assistance with Central Supply operations
You can choose to be involved with a variety of special programs, such as:
Utilization and Care Management
Spiritual Care
Many volunteers participate in our Ambassador Program, which involves welcoming visitors and providing directions to patient rooms and departments throughout the hospital.
Learning Opportunities
We offer an observation program, where volunteers are able to shadow a particular health care provider. This allows you to explore health care career opportunities and learn about caring for patients.
For More Information
If you are interested in becoming a volunteer, and learning more about the application process, please contact Roman Khait or Christina Argyros at 718-951-3005 or by email at Roman.Khait@mountsinai.org, or christina.argyros@mountsinai.org.