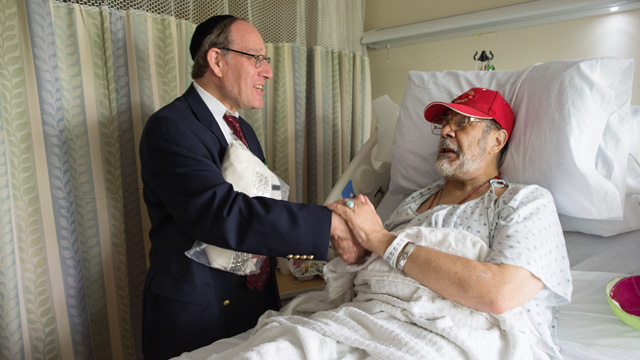 During times of stress or uncertainty, many people feel the need for spiritual conversation. At Mount Sinai Brooklyn, our chaplain can help you and your family, friends, and caregivers work through challenges, uncertainties, and crises. We help you draw on and examine your beliefs. We meet you where you are emotionally and spiritually. Our goal is to help you find meaning, healing, hope, and comfort. Studies show that spiritual counseling can improve quality of life and emotional well-being.
We care for people of every religion—as well as for people who have no religious beliefs or affiliations. If you would prefer to speak with someone of your own religion or denomination, we can arrange to bring someone from the community to talk with you. Please do not hesitate to express to us your needs during this difficult time.
Our chaplain can also act as a go-between among you, your health care providers, and support services professionals. We offer time, patience, active listening, and an appreciation for the ways spirituality affects someone's thinking. As a result, many patients share thoughts and experiences with us that they do not mention to their doctors. This enables us to smooth communication, advocate for you, and talk through difficult situations. We are committed to anti-racism and to working toward living in justice and equity.
When We Can Help
Our chaplain is available whenever you need to have a spiritual conversation. Spiritual care can be especially helpful when you are:
Experiencing spiritual or emotional distress
Feeling alone in your suffering
Struggling to find hope or meaning
Facing life situations that could contribute to illness or complicate your healing
Carrying grief, guilt, fears, or other emotions that could affect your recovery
Dealing with a serious or unexpected diagnosis or treatment
Struggling with a treatment decision
Wrestling with difficult ethical decisions
Thinking about end-of-life issues
Seeking a sense of balance and inner peace
When it comes to end-of-life issues, research suggests that spiritual support can lead to higher rates of hospice use, fewer aggressive interventions, and fewer deaths in the intensive care unit.
Services We Offer
We are here to meet all your spiritual needs. We can provide:
One-on-one spiritual and emotional support
Counseling to help you adjust to a new medical condition, cope with traumatic events, or explore your spirituality
Prayer, blessings, and rituals of all religions
Religious literature and sacred books
Counseling on personal or ethical issues, including treatment decisions and end-of-life-decisions
Meditation tapes and spiritual music
Religious articles such as rosaries, battery-operated Sabbath lights, prayer mats, and head coverings
Family conferences
Memorial services
Staff Support
Our chaplain services are available to the entire staff of Mount Sinai Brooklyn. This includes nurses, doctors, housekeeping, security, social workers, and physical therapists. We can provide one-on-one counseling as well as de-briefing sessions following stressful incidents. Should the need arise, we can facilitate memorial gatherings.
Facilities for the Jewish Community in Brooklyn
All foods prepared in the kitchen and cafeteria at Mount Sinai Brooklyn are under the strict supervision of Tarnopol Kashrus with the presence of a Mashgiach Temidi. In addition, Mount Sinai Brooklyn has installed a Shabbos restroom, as well as an Shabbos elevator and provides an active and vibrant Bikur Cholim room with a dedicated room Sponsored and maintained by the Yad Ephraim Organization.
Mount Sinai Brooklyn also works closely with the Bikur Cholim of Flatbush, which provides a variety of patient services including home and hospital visits, transportation for medical appointments, meals for temporary disabled homemakers, and financial assistance with medical bills and prescription medications. As always, we remain committed to the members of our community.