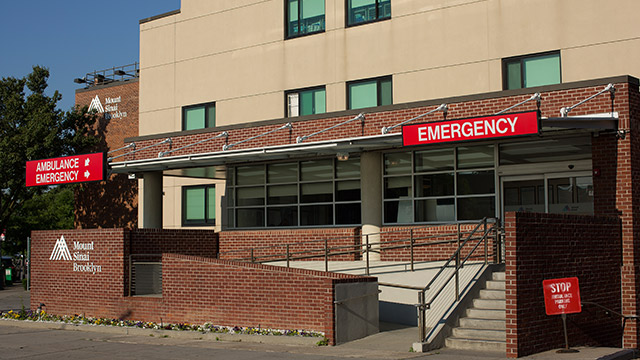 Timeline
1947 - Oldest building structure was built at 3201 Kings Highway, Brooklyn, NY.
1954 - A nursing home opens at the address of what becomes BI Brooklyn; this facility later turned into a hospital
1955 - Samuel Berson, MD, a specialist in Allergy and Immunology, incorporated 3201 Kings Highway and was the original founder and owner of the proprietary Kings Highway Hospital.
1995 - Samuel Berson, MD sold Kings Highway Hospital to Beth Israel Medical Center.
2013 - (On September 30th, 2013) Continuum Health Partners was acquired by Mount Sinai Health System (MSHS).
2014 - (January 2014) hospital name was changed to Mount Sinai Beth Israel Brooklyn
2015 - (On May 19th, 2015) the hospital's name was changed to its final and current name, known today as Mount Sinai Brooklyn (Under Mount Sinai Health System the hospital was renamed twice).
Now known as Mount Sinai Brooklyn, we trace our roots back to 1955, when Samuel Berson, MD, opened the proprietary Kings Highway Hospital in the Midwood area of the borough. Dr. Berson decided that the best way to advance his medical practice and play a role in the community was to start his own facility.
In 1995, after four decades of community-based medical service, Dr. Berson sold the 212-bed acute care hospital to Beth Israel Medical Center of New York for $43 million, and we took the name Beth Israel Kings Highway Division. Within two years, we came to be under the auspices of Continuum Health Partners (CHP), a health system formed by Beth Israel. By 2013, CHP had renamed the hospital Beth Israel Brooklyn. That fall, on September 30, 2013, Mount Sinai Health System acquired CHP and, in January 2014, the name was changed to Mount Sinai Beth Israel Brooklyn.
Early in 2014, we began a five-year effort to address our rapidly changing community, reaching out to the Orthodox Jews, African- and Caribbean-Americans, and Russian immigrants in the area. In addition, despite the challenging market and regulatory environment, we have achieved financial efficiencies and a bottom-line gain through improved patient care, tending to higher acuity patients while standardizing operations, and reducing overtime use. We are re-investing these funds to upgrade our facility and equipment. On May 19, 2015, we changed our name to Mount Sinai Brooklyn, as we are known today.
We hold patient safety as a core value and have been improving our quality and safety through on-site and system initiatives and sharing of best practices. Our innovative STOP Sepsis program has improved patient care and reduced mortality, and the Greater New York Hospital Association has taken note of our success. We have achieved historically low numbers of hospital-acquired infections, and cut our rates of readmission and falls with injury.
At the same time, we are preparing our doctors, voluntary attending physicians, to transition from a fee-for-service environment to the future models of shared savings, bundled payments, and an emphasis on population health. We are also developing our new partnership with the Icahn School of Medicine at Mount Sinai, which will bring a full range of graduate medical education training programs to our campus.
In addition, we are also building a Mount Sinai faculty practice in specialties such as thoracic surgery and neurosurgery. These physicians come from the community and provide with personal care in a community setting.
Our strength as a community hospital has always been – and remains -- our people, physicians, nurses, managers, administrators, patient care assistants, and others who provide highly personal care and maintain longstanding ties to the community.