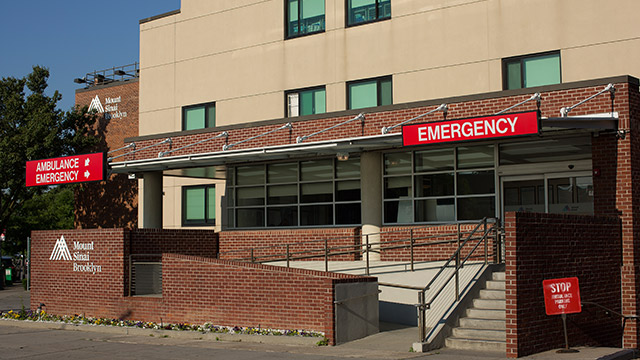 For more than half a century, Mount Sinai Brooklyn has been dedicated to community health. Our doctors, nurses, and other health care professionals strive to bring the most advanced care to residents of Brooklyn.
Timeline
1953 - A vacant parcel of about 18,000 square feet on the northeast side of Kings Highway, between East 32nd Street and New York Avenue in Brooklyn, is assembled for improvement with a two-story nursing home.
1954/55 - Samuel L. Berson, MD, a specialist in allergy and immunology, opens a nursing home at 3201 Kings Highway. He later incorporates it and founds the Kings Highway Hospital.
1980 - Kings Highway Hospital opens its North Wing. The number of hospital beds does not increase.
1995 - Beth Israel Hospital purchases Kings Highway Hospital for $43 million—becoming part of the Continuum Health Partners.

The hospital is renamed Beth Israel Kings Highway

1996 - An Acute Dialysis Unit, a three-bed inpatient facility, is opened.
1997

A Kidney Dialysis Unit is opened.
Hospital receives a $150,000 gift from the Leryna Foundation, the family foundation of Ely Levy, to double the number of intensive care unit beds, from six to 12.
The Greater Montreal Convention and Tourism Bureau donates the proceeds from its production of Robert Lepage's The Seven Streams of the River Ota, performed at the Next Wave Festival of the Brooklyn Academy of Music, to Kings Highway Hospital.

1998

A new emergency room (ER) opens at Kings Highway with 17 treatment slots, nine more than in the previous ER.
Hospital receives a $422,000 grant from New York State to educate nurses in ambulatory surgery/care.
Russian language services are increased throughout the hospital, including interpretation services.

2000 - A new acute care pavilion opens, including an expanded Emergency Department, Intensive Care Unit, and Coronary Care Unit.
2002 - Louis Mintz Family Waiting Room in Critical Care Unit is endowed.
2013 - Continuum Health Partners is acquired by The Mount Sinai Medical Center (creating the Mount Sinai Health System).
2014 - Hospital name is changed to Mount Sinai Beth Israel Brooklyn.
2015 - Hospital name is changed to Mount Sinai Brooklyn.