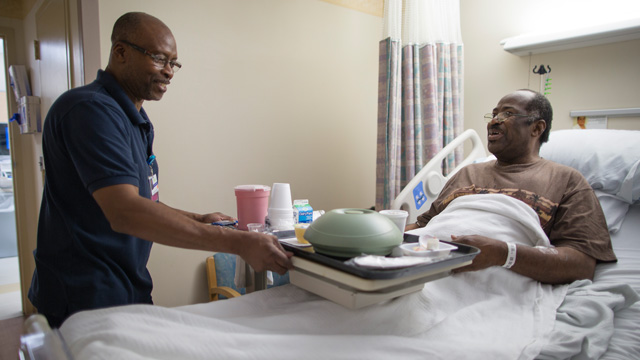 Mount Sinai Brooklyn Stroke Center
The Mount Sinai Brooklyn Stroke Center provides our patients with access to the most advanced treatments available anywhere. As a leader in stroke research and treatment, our Center offers specialized care for stroke patients from arrival to discharge, and beyond. Our exceptional care has been recognized by the American Heart Association and American Stroke Association, which granted Mount Sinai Brooklyn the Get With The Guidelines® - Stroke GOLD PLUS with Honor Roll Elite award in 2021.
Our highly skilled stroke team includes specialized physicians, nurse practitioners, and nurses, all working together to achieve the best outcomes for each of our patients. We are ready around the clock for rapid evaluation and treatment. After discharge, our experienced rehabilitation staff members—including physical, occupational, and speech therapists—are committed to helping our patients work toward recovery and resuming their daily activities.
As part of the Mount Sinai Health System's Neurology Department and its Stroke Service, our Center connects patients with a range of world class resources, including neurocritical care, neurosurgical services, and advanced stroke procedures.
Know the Signs of Stroke
In the treatment of stroke, every minute counts. It is important to recognize the sudden warning signs of stroke, which include:
Numbness or weakness of the face, arm, or leg (commonly on one side of the body)
Confusion, or trouble speaking or understanding
Trouble seeing, in one or both eyes
Difficulty walking, dizziness, loss of balance or coordination
Severe headache, neck pain, or sensitivity to light
If any of these symptoms appear, dial 911 immediately.
Stroke Service We Provide
Our team has deep experience in treating all forms of stroke and related conditions, including:
Ischemic stroke
Hemorrhagic stroke
Transient ischemic attack
Carotid artery disease
We offer skilled care in a wide range of areas, including thrombectomy. This minimally invasive procedure removes a clot from a blood vessel in the brain through the use of special instruments that are guided from a small incision in the wrist or groin.
We also offer telestroke, which is an advanced video technology that lets doctors examine patients remotely. Because every minute counts when it comes to treating stroke, telestroke equipment lets our specialists evaluate a patient at any time.
Supportive Services
Our Center is continuously working to improve the treatment of stroke both in our community and beyond. Our activities include:
Virtual lectures for community on stroke-related topics
Virtual stroke support group
Meet Our Stroke Center Team
At the Mount Sinai Brooklyn Stroke Center, our dedicated team includes specialized doctors, nurse practitioners, nurses, and support staff, working together to make sure each patient gets the best possible care.