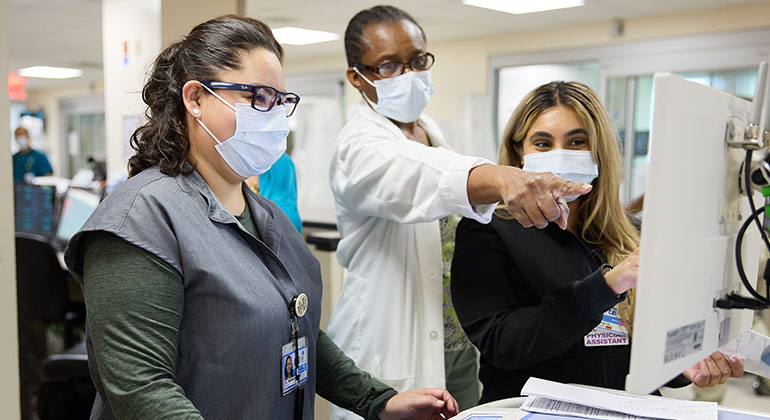 Mount Sinai Brooklyn Intensive Care Unit
Mount Sinai Brooklyn's Intensive Care Unit (ICU), with 12 private rooms, is designed to treat the sickest patients in the hospital. We diagnose and treat common critical care conditions like sepsis and respiratory problems. Our ICU has all the equipment needed to provide advanced intensive care to critically ill patients. This ranges from vasopressors, dialysis machines, and ventilators to the full range of imaging diagnostics.
Our goal is to provide excellent care to every one of our patients. As part of the Mount Sinai Health System, we follow the same quality and safety initiatives and protocols. We keep up to date with advances and quickly incorporate new technologies and approaches.
Our Team
Our staff works together to offer advanced and compassionate care through a multidisciplinary approach. Our team includes critical care physicians, physician assistants, nurses, respiratory therapists, patient care assistants, physical therapists, nutritionists, and clinical pharmacists. We also work closely with consultant colleagues throughout Mount Sinai Brooklyn and the rest of the Mount Sinai Health System.
We aim to communicate regularly with patients' families to answer questions and address any concerns. Social workers are available for counseling support. We also have language interpreters available. Our patients and their loved ones are at the heart of what we do.
Rules for Visitors
Due to COVID-19, our visitor rules change periodically. Please reach out to us at 718-252-3000 or visit here for current rules.