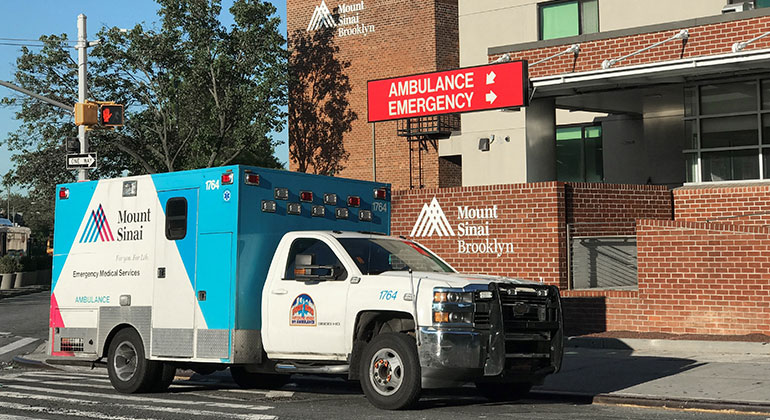 Mount Sinai Brooklyn provides emergency care 24 hours a day, 7 days a week. We are committed to giving you expert care both quickly and efficiently—and with as little wait time as possible. Our experienced staff includes doctors who are board certified or eligible in emergency medicine. All our care providers are trained in basic life support and advanced cardiac support and certified in child and neonatal resuscitation. Many of our nurses also hold emergency nursing certification.
When you enter the Emergency Department (ED), a registered nurse and registrar will greet you in the waiting room and evaluate your condition. You will then enter the ED to meet your care team, which will likely include a physician and a physician's assistant or nurse practitioner. We can perform imaging tests—including electrocardiograms, X-rays, and computed tomography scans—and have the results immediately read by a radiologist. We can also perform and process needed lab testing on site.
If you are admitted to Mount Sinai Brooklyn hospital, we will transfer you safely and efficiently from the ED to your hospital room. If you need hospital-level care for a specialty we do not offer—such as pediatrics and obstetrics—we will treat any immediate need and stabilize you. Then we will transport you to an appropriate facility either in the Mount Sinai Health System or one closer that has the resources you need.
Services We Offer
Mount Sinai Brooklyn's ED offers a variety of special programs to meet your needs.
Airway Management: For people who are having difficulty breathing, time is of the essence. Our airway management program helps patients who are having trouble breathing. We can intubate patients and use specialized tools to maintain or establish a clear airway.
Cardiac Care: Our ED doctors will diagnose your heart problem, address your symptoms, and provide treatment. We may admit you to the hospital for additional diagnostic testing and specialized treatment. If you need interventional cardiac care, we can get you to the nearest Mount Sinai facility that offers the care you need.
Fast Track Program: If you are not seriously ill, the triage nurse may send you to our Fast Track Program. This functions much like an urgent care facility, with dedicated staff. We can perform X-rays and other testing without a long wait. Our goal is to treat you and either admit you to the hospital or send you home as quickly as possible.
Maternity Care: When a pregnant woman comes to the ED in labor, we stabilize and transfer both mother and baby to a hospital for delivery. If time does not allow for transfer, we will deliver the baby. Then we will stabilize both mother and baby and transfer to a facility that can provide the care needed. Mount Sinai Brooklyn hospital does not offer inpatient obstetric or pediatric care.
Psychiatric Assessment and Management: Our ED provider evaluates patients and determines what type of care is needed with the assistance of psychiatric consultation as indicated. If you need to be admitted to a hospital, we can transport you to the appropriate hospital within the Mount Sinai Health System. If you can go home but need follow-up outpatient care, we can make arrangements.
Rape, Sexual Assault, and Domestic Violence Services: When you arrive at the ED, let us know you are here to be treated for sexual assault. If you want, we can do a medical forensic exam, also called a "rape kit." This means performing a physical exam and collecting DNA evidence. With your permission, we may also test you for pregnancy and any sexually transmitted infections or diseases. Our trained ED staff are on call around the clock to provide immediate crisis intervention, emotional support, and information.
Renal Care: We see many patients who are in kidney failure. We know that quick treatment is key and can provide emergent dialysis right in the ED. We also have a dialysis suite upstairs.
Stroke Care: The stroke team will evaluate you as soon as you arrive to see what type of treatment you need and what facility in the hospital is most appropriate (such as the intensive care unit). We provide services 24/7, using telestroke technology when necessary. The Stroke Service at Mount Sinai Brooklyn has received a gold-level recognition from the American Heart Association's Get with the Guidelines stroke program.
Follow-Up Care
Our care does not end when you exit the ED front door. If you are admitted to the hospital, we will contact your primary care physician if affiliated with Mount Sinai or connect you with a hospitalist—a doctor who specializes in caring for you while you are in the hospital—to ensure continuity of care. If you are not admitted but need follow-up care, our admitting office will make sure your next step is in place. We will set up an appointment with the appropriate doctor or clinic, and call you the next day with the time, place, and any other information you need for your appointment. We are here for you.