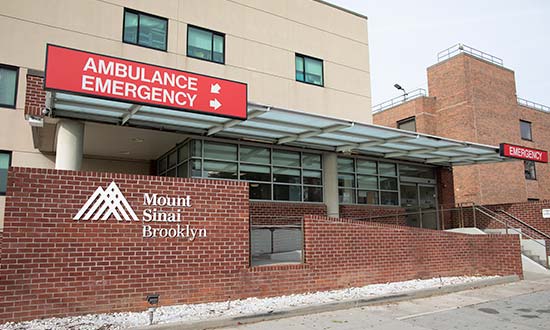 The highly skilled staff of the Mount Sinai Brooklyn Emergency Department (ED) is ready around the clock to provide our community with exceptional pediatric, adult, and geriatric care. With a team of physicians who are board certified in emergency medicine, nurses who specialize in critical care, and specialists in a wide range of areas available for consultation, we are poised for rapid response at all levels of emergency medicine—from evaluations through trauma, acute, and critical care.
Offering Advanced Services
Our care begins with a registered nurse, who assesses each patient with a rapid triage procedure. From there our ED is fully equipped to provide the most advanced services, including onsite diagnostics such as ultrasound and X-ray.
Understanding how frightening and confusing an emergency illness or injury can be for both patients and loved ones, our providers take the time to fully explain your treatment plan, and address any questions or concerns you or your family may have.
Our ED also offers expedited care for non-emergency cases through our Fast Track program. Fast Track is designed to give priority treatment to all patients. If you walk through our door with an ankle sprain, for example, one of our specialized nurses will immediately expedite your care and get you to a doctor or physician's assistant.
If our Fast Track patients need testing or imaging—like blood work or an ultrasound—our diagnostics are conveniently located on-site and ordered immediately. Our radiology department staff members are alerted to accelerate basic imaging, like X-rays, in order to keep our Fast Track cases moving along.
Committed to delivering the right care as quickly as possible, our ED brings the superb medicine of the Mount Sinai Health System home to Brooklyn, ensuring each of our patients has rapid access to the best possible health care.