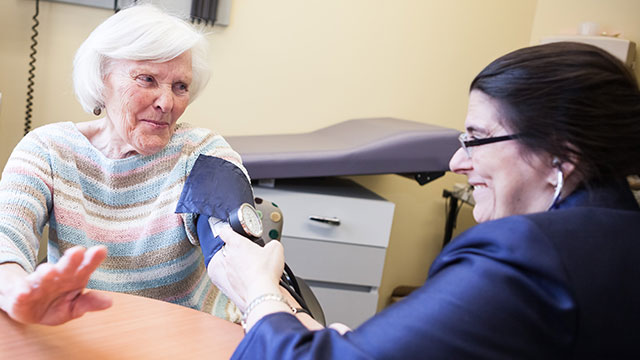 Psychiatric Services at Mount Sinai
The Mount Sinai Hospital's Department of Psychiatry, part of the Mount Sinai Behavioral Health System, is committed to improving mental and emotional health by providing outstanding inpatient and outpatient services for all ages. With specialty recognition among the top hospitals in New York State, our clinical experts tailor individual treatment plans for a variety of conditions including depression, PTSD, and eating disorders. In addition, we offer specialized programs dedicated to leading-edge therapies and research advances in areas including substance abuse, autism, ADHD, and obsessive-compulsive disorders. Through this integration of clinical expertise and scientific investigation, Mount Sinai's Psychiatric Services provide the comprehensive care patients need to attain their best possible quality of life.

About Mount Sinai's Department of Psychiatry
From the time Mount Sinai established the first psychiatric clinic at a general hospital in New York, our specialists have practiced a commitment to excellence in mental health care. Our success is evident not only in our current U.S. News & World Report recognition as one of the top regional hospitals for psychiatry, but in our many patients who daily find relief from depression, gain control over an eating disorder, or are able to sustain recovery from a range of psychiatric conditions.
By integrating science-based treatments, leading-edge research, and personalized care, The Mount Sinai Hospital's Department of Psychiatry, part of the Mount Sinai Behavioral Health System, has become a destination for challenging cases that haven't responded to treatment elsewhere. Our multidisciplinary team of psychiatrists, psychologists, and social workers is committed to giving patients of all ages the tools and support they need to achieve their highest level of mental health.
Providing Advanced Mental Health Services
In addition to our outpatient clinic, two inpatient units, and dedicated emergency room, the Department of Psychiatry is home to a series of specialized treatment centers, which combine research, clinical service, and education into a comprehensive model of care for disorders ranging from Autism to Alzheimer's disease. This broad offering of services and centers provides patients with a spectrum of advanced treatment options, including pharmacotherapy, psychosocial treatments (such as Cognitive Behavioral Therapy), and device-based procedures (such as Deep Brain Stimulation and Electroconvulsive Therapy).
Our team of specialists draws from this range of treatments to tailor the best care plan for each patient. By combining extensive clinical experience with ongoing research, our experts are skilled in treating conditions that include the following:
Personality and Impulse Control Disorders
Schizophrenia
Substance Abuse
Tourette's Disorder
Combining Science with Compassion
Our psychiatric treatment offerings are enhanced by our tireless commitment to research, which seeks to develop the next generation of therapies—from advanced device-based treatments to new psychotropic medications—and to unravel the very causes of a range of mental health conditions. Such an active research program gives our patients access to leading-edge treatment options in the form of clinical trial enrollments.
Whether caring for a child with ADHD, a young adult with bipolar disorder, or a grandparent struggling with dementia, Mount Sinai's Department of Psychiatry strives to provide the most state-of-the-art, compassionate, and successful care possible. As we work to advance the science and practice of psychiatry, our goal is to help each of our patients overcome the conditions holding them back, allowing them to reconnect with loved ones, re-engage in favorite activities, and enjoy the greatest possible quality of life.