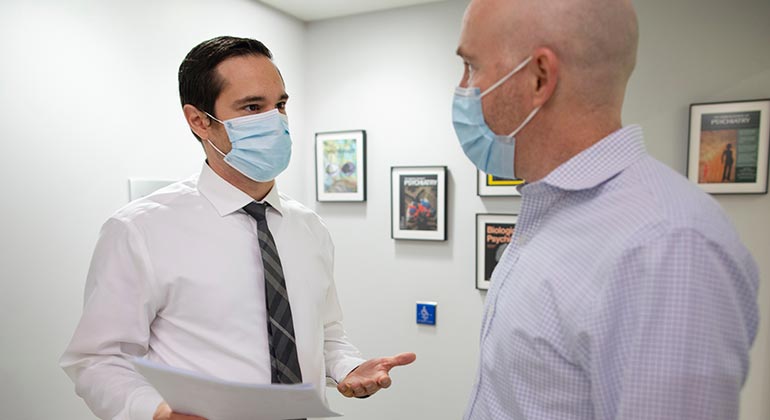 Outpatient Mental Health Services at Mount Sinai Morningside Hospital
If you need mental health services, Mount Sinai Morningside is here to help. Our mission is to provide comprehensive, high-quality services that empower you to change your life. Our advanced research means we use the very latest diagnostic and treatment approaches.
Our committed and experienced clinicians evaluate your difficulties. Then we will discuss with you what treatments might work best. We offer both medication and psychotherapy. Therapy is available one-on-one and in group settings. Our therapists practice a variety of techniques, including psychodynamic, cognitive behavioral, dialectical behavioral, motivational, and supportive therapy. We treat adults, couples, families, groups, adolescents, and children. The Addiction Institute of Mount Sinai helps people over 18 with drug or alcohol problems.
Your health, safety, and growth are important to us. We partner with you and your support network from diagnosis through treatment and beyond.
Adult Outpatient Services
We evaluate and treat all kinds of psychiatric issues in adults ages 18 to 70. We offer both short and long term psychotherapy with medication treatments and follow a model of recovery-oriented care for individuals with serious mental illnesses.
For those who fall outside this age range, we recommend the following Mount Sinai services:
We would like to help everyone. But OPC may not be the right clinics for those with:
Active suicide or homicide plans, who may need emergency or urgent care
Intellectual disability or significant developmental disability, who might be best served at the Developmental Disabilities Center
Dementia or significant cognitive impairment
Significant eating disorders, who we refer to the Center of Excellence in Eating and Weight Disorders
Requests for one-time evaluation for legal issue, disability, Administration for Children's Services, or housing
Primary substance abuse, who are best served by the Addiction Institute of Mount Sinai
How to Make an Appointment
For questions or to schedule an initial evaluation, please call 212-523-8080. The phone line is open from 8:30 am to 4 pm Monday through Friday.
All referrals go through our Comprehensive Assessment Center. The Center is a single point of access for psychiatric programs at Mount Sinai Morningside and the Center for Intensive Treatment of Personality Disorders (located at Mount Sinai West).
Intake Process
Before you make an appointment, we will evaluate you to see if our program is a good fit for your needs. This involves an intake exam. You may be seen first by a psychiatrist-in-training, a psychiatrist, a licensed clinical social worker, a psychologist, a psychologist-in-training, or a nurse practitioner. All intakes by trainees are done under supervision. After the first intake appointment, you will meet with a psychiatrist at a later date for an hour-long psychiatric evaluation.
We strive to make the intake process as rapid and smooth as possible. At the same time, we know it's important to perform a thorough assessment. We want to make sure our program is right for you. For this reason, we may ask you to come in for one or more intake visits.
We perform intake evaluations on Mondays, Tuesdays, and Wednesdays at 12:30 pm, and Fridays at 8:30 am. Intake evaluations can take between one and three hours. We are located at 411 West 114th Street, Suite 1A, between Amsterdam Avenue and Morningside Drive in Manhattan.
Here are a few things you should know before your intake:
If you start feeling worse and need help before your intake, please contact the provider who referred you or call 911.
If there is any change to your insurance status, let us know immediately. We don't want you to be burdened with a bill. If you have financial questions or concerns, contact our HEAL Center at 212-523-3900.
If possible, please fill out the following forms ahead of time:
On the day of your intake, you can expect:
You should arrive at about 12:30 pm if you need to complete the forms in the office. If you have completed them ahead of time, you can come at 12:45 pm. When you arrive, check in with the front desk.
Once you complete the forms, the clinician will bring you into their office, at 1 pm.
The clinician will perform a one-hour evaluation.
If you were seen by a psychiatrist-in-training, they will discuss your case with their supervisor and meet with you again at 3 pm. While they are speaking with their supervisor, you can get coffee or lunch or read a book.
At 3 pm, the clinician will discuss your treatment options and next steps.
We typically do not prescribe medication at the intake visit.
After the intake, you can expect the following:
Within the next two weeks, you will return to our office for further intake and evaluation. Depending on the situation, we may provide medication treatment.
Once we have collected all the information we need and a psychiatrist has evaluated it, we will admit you to the clinic for services.
Mount Sinai Morningside is here for you and your family.